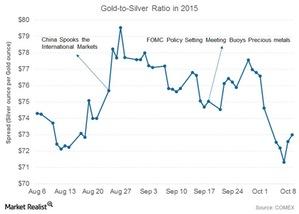 Assessing Silver and Gold in 2015
Poor man's gold
Silver was the best-performing precious metal after palladium in September 2015, advancing by 11.40% on a 30-day trailing basis, while palladium surged a whopping 17.80%. During the first week of October, however, returns for silver turned negative—it lost 0.65% on a five-day trailing basis as of October 13, 2015. The precious metal was down 26% since first entering a bear market in 2013.
Silver is known as "poor man's gold" since it's a precious metal but comparatively less valuable and expensive. The gold-to-silver ratio, which defines the comparative strength of silver to gold, had been increasing in the first week of October. But as of October 13, the current gold-to-silver ratio, or gold-silver spread, stood at $73.45 per ounce. This figure indicates that it takes almost 75 ounces of silver to buy one ounce of gold, and so the spread is trading almost at a 2.5% discount from 50-day moving average prices.
Article continues below advertisement
Silver investments
The price ratio of gold to silver is a widely watched gauge of the relative value of the two precious metals. The current $75 value of the spread is far above the historical average of about 50 ounces of silver per one ounce of gold. Silver was trading at $15.90 per ounce as of October 13, 2015, while gold was trading at $1,165.40 per ounce on the same date. But then gold has been surfing compared to silver. The five-day trailing gain for gold was 2.10% on October 13, whereas silver showed a five-day trailing loss of 0.65% on the same date.
The iShares Silver Trust (SLV) fell by more than $50 million between the start of 2015 through July—the largest outflow the fund has seen since 2011. But as of October 13, SLV and the Global X Silver Miners ETF (SIL) have risen by 9.90% and 18.90%, respectively, on a 30-day trailing basis. Silver mining companies, on the other hand, like Silver Wheaton Corporation (SLW), Coeur Mining (CDE), and First Majestic Silver Corporation (AG) have lost more than 25% so far in 2015, compared to the 2% gain for the S&P 500 stock index. These four companies together make up 6.10% of the VanEck Vectors Gold Miners ETF (GDX).
The sharp declines in Chinese equity markets during the past few months, in addition to renewed signs of a slowdown in the world's economy, suggest slower silver demands. These drops, notably, were due in large part to sliding investor demands for precious metals, which tend to remain less appealing amid tepid inflation and slow improvements in the US economy.