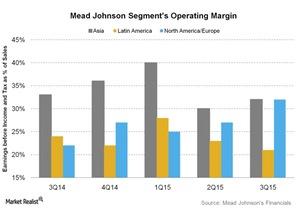 Asia Segment Contributed 49% to Mead Johnson's Sales in 3Q15
By Sushree Mohanty

Oct. 26 2015, Updated 1:16 a.m. ET
Segment performance
Mead Johnson (MJN) showed high growth in the North America–Europe segment, which was insufficient to offset the weaker category sales in emerging markets. Higher realized pricing and market share gains drove growth in that segment.
In China, continued price-based promotional activity and an ongoing shift in consumer demand toward fully imported products negatively affected demand for the company's locally manufactured products. Mead Johnson recently introduced a imported product that has met expectations since its launch in 2Q15.
Article continues below advertisement
In Latin America, Mead Johnson's sales were lower due to slowing category growth and adverse foreign exchange movements. Major markets saw share gains following strategic investment. The company delayed shipments to Venezuela late in the period, pending access to foreign exchange to allow settlement of intercompany payables.
North America–Europe EBIT was driven by higher sales and gross margin improvement, partially offset by higher advertising and promotion investments. Asia and Latin America EBIT was primarily the result of lower sales. Prior-year foreign exchange–related gains on payments received from the Venezuelan business and the current year postponed shipments into the country further worsened the Latin America EBIT performance and comparison.
Mead Johnson's EBIT increased 1% due to higher gross margins across all segments because of lower dairy costs. Higher operating expenses, including increased investment in demand creation initiatives on a local currency basis, partially offset the impact of gross margin improvements. The reduction in EBIT in Asia was driven by lower sales and higher demand-creating investments to support the introduction of the company's fully imported products in China.
Share repurchase program
On October 20, 2015, Mead Johnson's board of directors approved a new share repurchase authorization of $1.5 billion of the company's common stock. The company expects to finance the share repurchases through the issuance of debt, which may include long-term notes. The adoption of the new program follows the substantial completion of purchases of common stock under the prior repurchase authorization approved in September 2013.
Shares will be repurchased from time to time in the open market or privately negotiated transactions. This share repurchase program would be initiated through the anticipated use of a $1 billion accelerated share repurchase program that the company expects to execute in the short term.
Mead Johnson's peers in the industry also include McCormick & Company (MKC), J.M. Smucker (SJM), and Flowers Foods (FLO). They reported year-to-date returns of 15.14%, 17.12%, and 39.81%, respectively. The Power Shares S&P 500 Low Volatility ETF (SPLV) invests 1.11% of its portfolio in MKC.