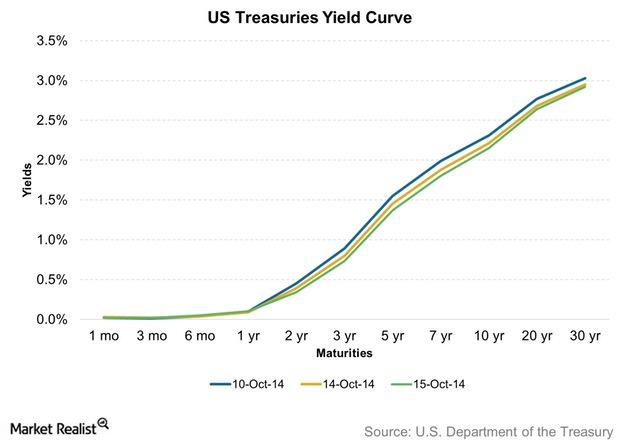 Analyzing the US Treasury Market Events of October 15, 2014
By David Ashworth

Nov. 20 2020, Updated 2:17 p.m. ET
Treasury yields
A look at the graph below, which shows the day-end yield levels across maturities on October 15, 2014, should make you wonder about the title of this part of our series. But these events happened intra-day and were important enough for five institutions to issue a "Joint Staff Report: The US Treasury Market on October 15, 2014" in July 2015. It's also closely connected to our core topic of bond market liquidity.
Article continues below advertisement
What happened that day?
According to the report cited above, "in the narrow window between 9:33 and 9:45 AM ET, yields exhibited a significant round-trip without a clear cause, with the ten-year Treasury yield experiencing a 16-basis-point drop and then rebound. For such significant volatility and a large round-trip in prices to occur in so short a time with no obvious catalyst is unprecedented in the recent history of the Treasury market."
The report further informed that the ten-year benchmark yield witnessed a 37 basis-point trading range on October 15, 2014, even though it closed only six basis points lower than its opening level. Larger intra-day moves have occurred only thrice since 1998.
Another interesting aspect of the move was that it wasn't driven by any significant indicator release or policy announcement. On the other hand, the other three events mentioned above were influenced by policy announcements.
Findings and causes for worry
Although the report was released nine months after the event, the findings have been considered preliminary—the report doesn't reach a conclusion. Instead, it states that "in sum, record trade volumes, a decline in order book depth, changes in order flow and liquidity provision, and notable and unusual market activity together provide important insight into the factors that may have contributed to the heightened volatility, decreased liquidity, and round-trip in prices on October 15."
Article continues below advertisement
This event has been a primary driver of worries for market participants who worry that a rate hike—whenever it finally occurs—will strain liquidity from the US Treasury market. A rise in Treasury yields would lead to a fall in the returns of mutual funds like the Prudential Government Income Fund Class A (PGVAX) and the American Funds US Government Securities Fund (AMUSX) due to the inverse relationship between yields and prices.
Reactions
Current market conditions have made companies like SunOpta (STKL) pull back their proposed junk bond issue, while elevated risk levels have led Altice SA (ATCT) to scale back its junk bond issue for the acquisition of Cablevision Systems Corporation (CVC).
Issuers like Frontier Communications Corporation (FTR) had to offer concessions to investors to get its issue through, which was intended to acquire some assets from Verizon Communications (VZ). Even investment-grade issuers like Enbridge Energy Partners (EEP) and the Hewlett-Packard Company (HPQ) saw higher-than-estimated coupons set on their issues.
Speaking of corporate issues, let's look at the state of the corporate bond market in the next part of this series.