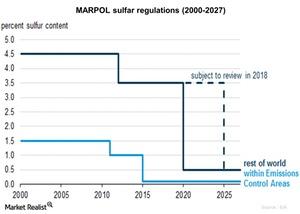 Analyzing MARPOL Regulations on Sulfur Content in RFO
By Manu Milan

Updated
Defining RFO
According to the EIA (U.S. Energy Information Administration), RFO (residual fuel oil) is one of several residuals that are after lighter materials, like gasoline and distillate. It's distilled from crude oil. RFO contains a large amount of contaminants including sulfur, nitrogen, and heavy metals. Because of its high viscosity, RFO is either blended with lighter streams or heated to ensure that it can be pumped.
Article continues below advertisement
Where's RFO used?
RFO is used in many sectors throughout the globe. This also includes the shipping industry, power generation, commercial blast furnaces and boilers, and several industrial processes. In some regions, RFO is a relatively low-cost fuel for space heating. RFO plays a key role in the global liquid fuel market. Normally, its price is below the price of other liquid fuels.
New policies and regulations on sulfur content in RFO
There's a high sulfur content in RFO. This raised concerns about health and environmental degradation. It led to new policies and regulations. This lowered the expectations for future RFO use globally. As the demand for RFO falls, the need for the refining upgrades to convert residual material to lighter and cleaner products will increase.
Article continues below advertisement
MARPOL regulations
According to the EIA, the levels stipulated by MARPOL (marine pollution) regulations can be met by using RFO with sulfur levels of no more than 3.5%. These rules also set more stringent requirements—consistent with RFO sulfur levels of no more than 0.1%—in designated emission control areas. The areas include the North Sea, the Baltic Sea, as well as coastal areas in North America and the Caribbean Sea.
MARPOL regulations impact refiners
Only a few refineries are capable of removing sulfur from RFO. Refining upgrades are required to convert RFO into lighter and cleaner products. There are some extra costs for the refiners. It led to the decrease in refiners' margins like Holly Frontier (HFC), Western Refining (WNR), Marathon Petroleum (MPC), Phillips 66 (PSX), Valero Energy (VLO), and Tesoro (TSO). They account for 3.2% of the Energy select SPDR ETF (XLE).