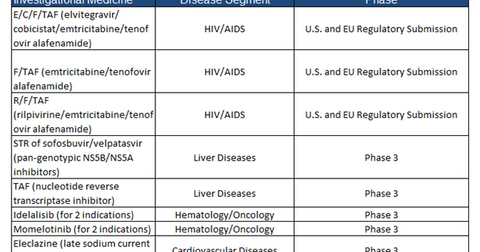 Analyzing Gilead Sciences' Research and Development in 3Q15
By Margaret Patrick

Oct. 23 2015, Updated 4:07 p.m. ET
Late-stage research and development program
At the end of 3Q15, Gilead Sciences (GILD) has a strong late-stage research and development (or R&D) pipeline. In addition to HIV and hepatitis C (or HCV) therapies, the company also has late-stage therapies in the oncology/hematology and cardiovascular disease segments.
The above table shows Gilead Sciences' investigational drugs, which are currently under approval or in phase three clinical trials.
Article continues below advertisement
HIV/AIDS
As discussed in the previous article, Gilead Sciences is changing its entire HIV drug portfolio. While drugs were based on the compound tenofovir disoproxil fumarate (or TDF), the new portfolio will now be based on tenofovir alafenamide (or TAF). Three TAF-based HIV drugs are currently under the review process in the US and EU.
In addition, Gilead Sciences also has a promising single-regimen drug called GS-9883 (integrase inhibitor) F/TAF (emtricitabine/tenofovir alafenamide) in the phase two clinical trial process. The strong research pipeline will enable Gilead Sciences to effectively compete against other strong HIV players such as Johnson and Johnson (JNJ), Pfizer (PFE), and GlaxoSmithKline (GSK).
Liver diseases
On September 21, 2015, Gilead Sciences announced positive results from the four phase three clinical studies for the combination drugs sofosbuvir with velpatasvir, which aim to cure patients suffering from any genotype of HCV. This pan-genotypic, single-tablet regimen has been assigned "Breakthrough Therapy Designation" by the US Food and Drug Administration. The company expects that post approval, the drug will be widely accepted in those countries outside the US where determining the HCV genotype is still a challenge.
TAF is currently being tested in phase three clinical trials and explored for chronic hepatitis B infection. Currently, in phase two trials, Gilead is also developing an investigational medicine, Sofosbuvir, which is expected to surpass even Harvoni in cure rate.
Additionally, the company continues to explore new molecules in the oncology and cardiovascular disease segment. To find out more about these drugs, please refer to Gilead Sciences' Product Line Extension.
Instead of directly investing in Gilead Sciences and being exposed to excessive company-specific risks, you can invest in the company through the iShares Nasdaq Biotechnology ETF (IBB). Gilead Sciences accounts for about 8.2% of IBB's total holdings.