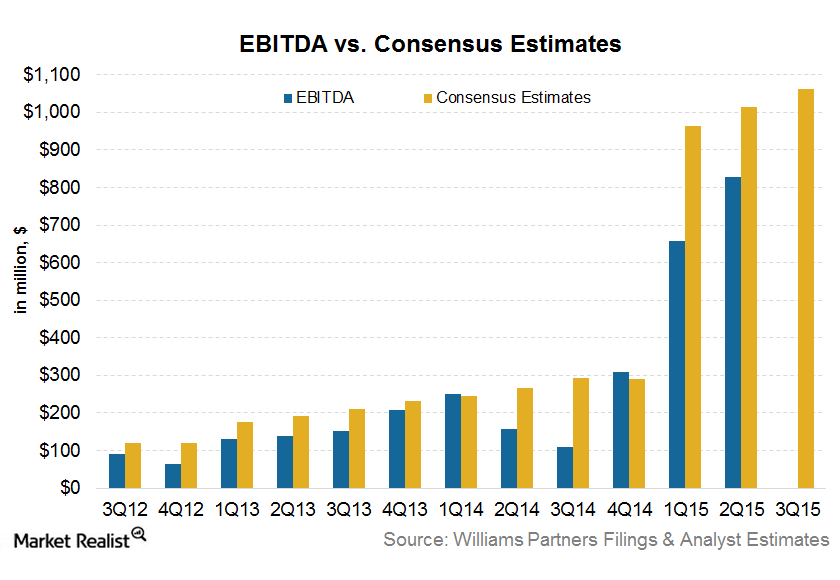 Why Have Analysts Increased Williams Partners' EBITDA Estimate?
Williams Partners' 3Q15 EBITDA estimate
In the previous article, we looked at Williams Partners' (WPZ) 3Q revenue estimate. In this article, we'll analyze WPZ's 3Q15 EBITDA (earnings before interest, tax, depreciation, and amortization) estimates on similar lines. EBITDA is a broad measure of a company's operational profitability. It drives distributable cash flows at a higher level.
Wall Street analysts have increased WPZ's 3Q15 EBITDA estimates despite the company's significant misses in recent quarters. WPZ's 3Q15 consensus EBITDA estimate is ~$1,063.2 million versus the ~$1,013.2 million for the previous quarter, an increase of ~4.9%. The higher EBITDA estimate could be attributable to the following:
Article continues below advertisement
Williams Partners restructured its gas gathering services contract with Chesapeake Energy (CHK) in the Dry Utica and the Haynesville Shale. This involves an increase in the area of dedication by 50,000 acres from 140,000 acres to 190,000 acres, and conversion of cost-of-service mechanism to a fixed-fee structure with MVCs (minimum volume commitments) in Utica. According to the press release, "Williams expects positive impact to EBITDA in both the Utica and the Haynesville areas due to near-term higher volumes and drilling commitments."
The company expects an increase in gas pipelines fee revenues driven by the recent expansion projects placed into service.
The company expects an increase in olefins production. The NGL & Petchem Services segment anticipates higher ethylene volumes in 2015 compared to 2014, mainly due to the repair and expansion of the Geismar plant, which restarted in February 2015.
The increase in EBITDA is expected to be offset mainly by the following factors:
Decrease in NGL (natural gas liquids) margins due to low NGL prices
Increase in operating expense related to the growing operations in the Northeast G&P segment and expansion projects at Transco
EBITDA versus consensus estimates
Williams Partners has missed EBITDA estimates by a huge margin in the last two quarters. For 2Q15, the consensus EBITDA estimate was $1,013.2 million while the adjusted EBITDA was $829 million, an 18.2% miss. We'll have to wait for the 3Q15 earnings release to see whether WPZ beats or misses its 3Q15 EBITDA estimates. We'll cover this in our post-earnings series for WPZ.