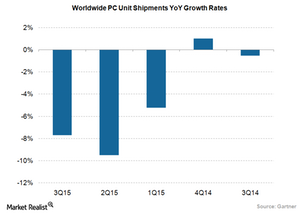 Why Analysts Hope for a Holiday PC Market Comeback
Windows 10 and Skylake could be the main drivers for the PC market
In the previous part of the series, we discussed why the PC market continues to decline. However, both IDC and Gartner are optimistic about the PC market's prospects the holiday shopping season during 4Q15.
According to IDC's research director Linn Huang, "New designs running Windows 10 and powered by Intel's new Skylake processors are coming to market and may represent the most compelling reason we've had in years for consumers to upgrade their PCs." Huang is referring to the new Windows 10 release from Microsoft (MSFT) and new Skylake processors from Intel (INTC).
Article continues below advertisement
Microsoft is trying to popularize its Windows 10 operating system by partnering with other tech companies. It recently partnered with Baidu (BIDU), China's dominant search engine, to promote Windows 10 in China (FXI). Microsoft also teamed up with VMware (VMW) last month to enable faster adoption of Windows 10 in enterprises.
On the other hand, Intel launched its Skylake processor in early September. It claims to offer up to 2.5 times the performance, three times the battery life, and 30 times the graphic performance compared with PCs only five years old.
PC market's recent struggles
Both Windows 10 and Skylake are the main drivers that can help the PC market make a comeback after struggling for growth in the last few quarters. According to Gartner and as the chart above shows, worldwide PC unit shipments declined at a year-over-year rate of 9.5% in 2Q15 and 7.7% in 3Q15.