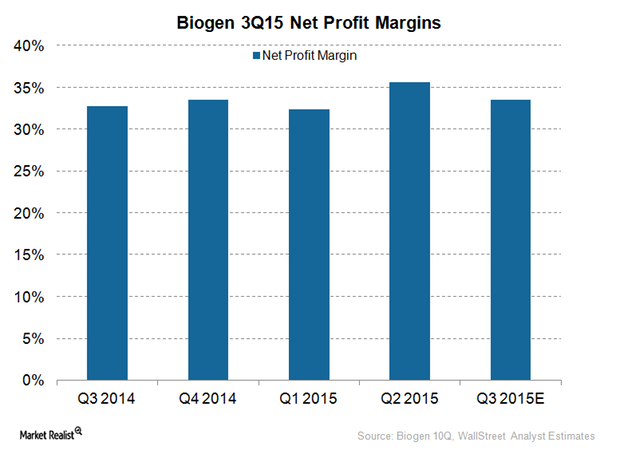 Analysts Expect Biogen's Net Profit Margins to Rise in 3Q15
By Margaret Patrick

Dec. 4 2020, Updated 10:42 a.m. ET
Net profit margins
Biogen (BIIB) will announce its 3Q15 earnings results on October 21, 2015. Analysts expect that the company will report lower net profit margins as compared to 2Q15.
According to Wall Street analysts' estimates, Biogen will earn a net profit margin of about 33.6% in 3Q15, which is 0.8% higher than what the company reported in 3Q14. This projection is lower than the net profit margins Wall Street analysts estimated for peer companies such as Celgene (CELG), Amgen (AMGN), and Gilead Sciences (GILD) in 3Q15. Analysts estimated these companies' net profit margins to be 42.4%, 34%, and 54.8%, respectively.
Article continues below advertisement
Revenue and cost outlook
Wall Street analysts have projected revenue growth of 5.3% in 3Q15 as compared to the company's revenues in 3Q14. This is in line with Biogen's updated revenue projections for the full year 2015.
On January 29, 2015, Biogen had projected its revenue growth rate for the full year 2015 to be in the range of 14% to 16% as compared to the company's revenues in 2014. However, on July 24, 2015, Biogen lowered its guidance and projected a revenue growth rate in the range of 6% to 8%. The lower projection was mainly attributed to the weaker-than-expected performance of Biogen's blockbuster therapy Tecfidera.
While revenues are projected to decline, Biogen expects research and development (or R&D) expenses to continue to be in the range of 19% to 20% of total revenues. The company expects selling, general, and administration (or SG&A) expenses to be in the range of 20% to 21%. Through 3Q15, Biogen has been involved in five phase three trials. Phase three trials, which involve a large sample of human patients, are generally the costliest phase in the drug development process.
Biogen has also been actively involved in marketing its products. For promoting Tecfidera in the US market, the company has deployed three field forces. Biogen deploys sales forces depending on the size of the product's market, the targeted geography, and the kind of access that the drug receives in the market. The sales force is trained in education for the physician community and effective methods of promoting Biogen's products. These marketing efforts result in substantial SG&A expenses.
Instead of directly investing in Biogen and being exposed to excessive company-specific risks, you can invest in the company through the iShares Core S&P 500 ETF (IVV). Biogen accounts for 0.36% of IVV's total holdings.