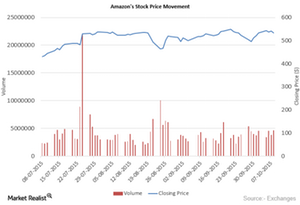 Amazon Web Services Introduces Its Internet of Things Platform
By Parker Thomas

Updated
IoT makes process highly automated
On October 8, 2015, Amazon Web Services (or AWS) announced its new AWS Internet of Things (or IoT) platform. This platform enables devices to exchange and collect information without any human interaction and to generate a plethora of data that can be a captured, processed, and predictively or prescriptively analyzed to allow enterprises to make informed decisions.
For example, AWS IoT can be used for traffic movement, wherein connected vehicles will interact with traffic systems and, based on congestion and wait times, suggest different routes.
AWS IoT has application across many industries. Organizations can leverage AWS IoT to empower their IoT applications, covering everything from real-time vehicle breakdown alerts to remote problem diagnoses. With AWS IoT, enterprises can make use of the following features:
Article continues below advertisement
Security: AWS IoT provides data encryption while streaming across devices with two-way authentication. This ensures security and compliance. Moreover, it has additional security features that allow devices to connect individually and can create groups for devices sharing common elements.
Disconnected Architecture: AWS IoT allows interaction with connected devices even when they are offline. It captures and stores the status of each connected device, so that even if a device goes out of reach, the application remains aware of the status of that device in relation to other devices.
Enterprises are becoming customer-centric, recognizing trends that consumers follow during particular periods of time. Many leading enterprises such as Adobe, Netflix, and Samsung use AWS to support their IoT applications running at the back end. AWS provides seamless connectivity with a set of products that an enterprise offers and takes real-time action against products' re-order quantities to ensure smooth delivery.
The Technology Select SPDR ETF (XLK) is a portfolio of 47 stocks, out of which the top four stocks Apple (AAPL), Microsoft (MSFT), Facebook (FB), and Google (GOOG) constitute 16.4%, 8.9%, 4.8%, and 4.8%, respectively.