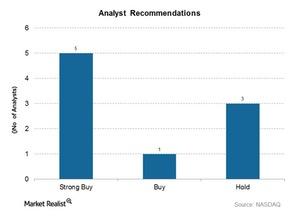 AES Corporation: Analyst Recommendations
By Pearl Adams

Updated
Results overview
AES Corporation's (AES) 2Q15 results were below analyst estimates. Total revenues came in at $3.9 billion, which was much lower than the analyst estimate of $4.3 billion. Net profit of $69 million was down about 48% from 2Q14. Earnings per share were at $0.25, which was below the analysts estimate of $0.06 per share.
Article continues below advertisement
Wall Street coverage
Analysts are very optimistic about AES Corporation. Out of nine analysts surveyed by Bloomberg, six gave AES Corporation a "strong buy" rating, one analyst gave a "buy" rating, and three analysts gave a "hold" rating to the stock.
The day after earnings were released on August 10, AES Corporation stock reacted negatively and fell by 2.6% as compared to a 0.8% increase in the Utilities Select Sector SPDR ETF (XLU). This decline was due to lower profits owing to a strong US dollar, planned maintenance of certain businesses, and lower demand in Brazil and Europe.
Notable ratings
JPMorgan Chase (JPM) rated AES Corporation as "overweight." The brokerage firm has raised AES Corporation's price target from $14 per share to $16 per share.
RBC Capital Markets, a brokerage firm and a part of the Royal Bank of Canada (RBC), has given the stock an "outperform" rating, but has lowered the price target from $15 per share to $14 per share.
UBS Securities, part of the UBS AG Group (UBS) has given AES Corporation a "neutral" rating, with a price target of $14 per share.
On average, analysts set the short-term price target at $14.75, up from $10 on September 24, 2015. This would imply a 48% return for investors in the short term.