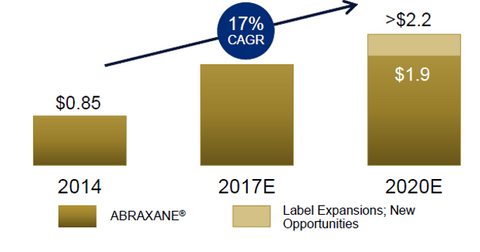 Abraxane Expected to Strengthen Celgene's Oncology in 3Q15
By Margaret Patrick

Updated
Celgene's Abraxane
In 3Q15, Abraxane is expected to continue its strong performance both in US and ex-US markets as a strong pancreatic cancer therapy. The diagram below shows that by 2020, Celgene (CELG) is expected to earn more than $2.2 billion from its oncology segment, where $1.9 billion will be earned from Abraxane.
Article continues below advertisement
New markets
Abraxane is currently used by ~50% of the pancreatic cancer patients on therapy in the United States. The drug is also approved for non-small-cell lung cancer (or NSCLC) as well as advanced breast cancer patients who have already received other cancer treatments. The growth of Abraxane in US markets is expected to be moderate in 3Q15, as the drug faces high competition in breast cancer indication, as well as the changing payer environment.
In 2Q15, Abraxane's strong revenue growth was mainly attributed to the launch of the drug in multiple European markets for pancreatic cancer. This, combined with the drug's ongoing launch efforts in European markets for NSCLC indication, is expected to boost Celgene's oncology revenues in 3Q15. To know more about Celgene's diversification strategy, please refer to Celgene's Widespread Diversification Strategy.
New indications
Abraxane is currently under exploration for treating patients with triple negative breast cancer. Data from the phase II tenacity trial is expected to be published in the first half of 2016. Unlike other forms of breast cancer, triple negative breast cancer is difficult to treat. Hence, if the Food and Drug Administration (or FDA) approves Abraxane for this indication, it could pose tough competition to existing drugs, such as Bristol-Myers Squibb's (BMY) Taxol, Roche Holding's (RHHBY) Avastin through subsidiary Genentech, and Novartis's (NVS) Afinitor.
Abraxane is also being explored as an adjuvant pancreatic cancer therapy, gastric cancer therapy, advanced NSCLC, and nasopharyngeal carcinoma therapy.
Celgene accounts for 8.9% of the iShares Nasdaq Biotechnology ETF's (IBB) total holdings.