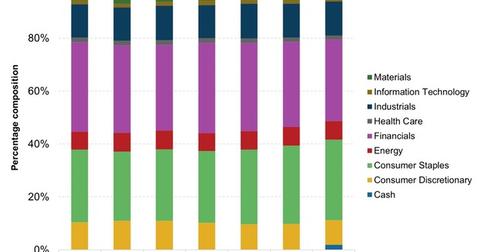 The Aberdeen Latin American Equity Fund Class A (ALEAX): Portfolio Overview
By David Ashworth

Updated
Overview
The Aberdeen Latin American Equity Fund Class A (ALEAX) seeks long-term capital appreciation "by investing at least 80% of the value of its net assets in equity securities of Latin American companies. Remaining assets may be, but are not required to be, invested in equity securities that are expected to reflect developments in Latin America."
Fund managers aim to invest across countries from the Latin American region. However, they retain the flexibility of investing a large portion of their assets in a single nation. Managers conduct fundamental analysis to select securities for the portfolio and adopt a bottom-up approach, which focuses on individual stocks instead of sectors of country trends.
Article continues below advertisement
The fund's assets were invested across 41 stocks as of September 2015, when it was managing assets worth $2.73 million. In its September portfolio, the fund's equity holdings included Banco Santander-Chile (BSAC), Tenaris SA (TS), Bancolombia SA (CIB), and Grupo Financiero Santander Mexico (BSMX), which make up a combined 8.4% of the fund's portfolio.
Historical portfolios
We have the latest holdings available for ALEAX—as of September 2015—with us. According to this data, financials were the biggest sectoral holding of the fund, followed closely by consumer staples. These two sectors formed 61% of the fund's portfolio. There's no exposure to the telecom services and utilities sectors.
Fund managers have not made too many changes to the portfolio in the past in year. This is confirmed by a look at the stock level changes to the fund's portfolio. Though this can show the conviction of fund managers in their stocks picks, it could also be because the fund is quite small. Due to the negative mood in Brazil, which is reflected in equities, fund managers could just be stuck with their holdings.
Over the past year ending in September 2015, ALEAX's exposure to the consumer discretionary sector has reduced marginally. Unsurprisingly, exposure to the energy sector has reduced sharply and materials find a smaller place in the portfolio than they had one year previously.
But how did ALEAX's composition impact its performance in September? Continue to the next part of this series to find out.