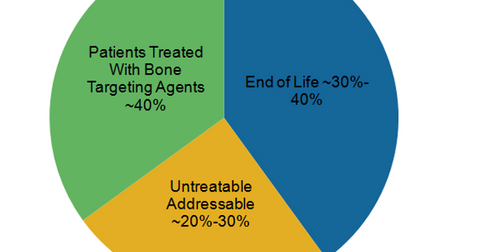 Xgeva: Focusing on Skeletal-Related Events in Cancer Patients
By Margaret Patrick

Updated
Skeletal-related events
Launched in the US in 2010, Amgen's (AMGN) Xgeva is used to prevent skeletal-related events, or SREs, in patients affected by bone metastasis, which occurs when cancer affecting some other organ spreads to the bones. SREs involve events such as fractures, unnecessary radiation exposure to bone, compression of the spinal cord, and any kind of bone surgery.
The above diagram shows that about 20% to 30% of patients suffering from bone metastases have addressable cases, yet are not being treated currently. However, Xgeva is not yet approved for bone metastases resulting from multiple myeloma.
Article continues below advertisement
Xgeva
Compared to other major oncology drugs launched in the five years post 2007 such as Sanofi's (SNY) Jevtana, Bristol-Myers Squibb's (BMY) Ixempra, and Novartis's Afinitor, Amgen's Xgeva was the only drug to earn $1 billion in revenue within two years of its launch. With total sales of about $1.2 billion in 2014, Xgeva currently accounts for about 45% of the bone metastasis market in the US. The remaining market is shared by competitors such as Novartis's (NVS) Zometa and other generics. The drug was approved in Europe in 2011 and receives reimbursement in all major European countries. In 2015, Amgen was successful in negotiating reimbursement in France, one of the major bone metastasis markets outside the US. To further increase Xgeva's sales, Amgen is focused on expanding the SRE segment by creating awareness of bone complications.
Label expansion
In June 2013, Xgeva was also approved for treatment of giant cell tumor of bone, or GCT, which is not cancerous. Further, Xgeva is being researched for its use in multiple myeloma patients with bone metastases. If successful, it will likely provide a big boost for Xgeva's revenues.
Investors can get diversified exposure to Amgen yet avoid unique company risks by investing in the iShares NASDAQ Biotechnology ETF (IBB). IBB maintains 8.53% of its total holdings in Amgen.