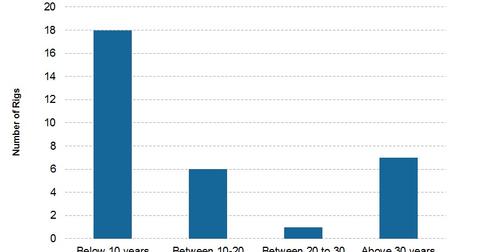 Will Rowan Continue to Stack and Scrap Rigs?
By Sue Goodridge

Updated
Cold stacking and scrapping
Rowan Companies (RDC) currently has one cold-stacked rig and five idle rigs. The company scrapped two of its rigs in July 2015. Offshore drilling (OIH) is a capital-intensive industry requiring a large amount of money to keep rigs active and well-maintained.
All players in the industry, including Ensco (ESV), Seadrill (SDRL), Transocean (RIG), Atwood Oceanics (ATW), and Noble (NE) are reacting to the current depressed rig demand scenario by scrapping rigs or cold-stacking them in order to reduce costs.
Article continues below advertisement
Rowan's fleet characteristics
Rowan Companies (RDC) has an average fleet age of 12.8 years. Most of the rigs in its fleet—that is, 18 rigs out of the total fleet of 32—are considered young, at less than ten years of age. Six of Rowan's rigs are between ten and 20 years old, one is between 20 and 30 years old, and seven rigs are older than 30 years old.
Possibilities for cold-stacking
Cold-stacking rigs reduces a company's operating costs, but it also hampers the company's revenue potential. Cold-stacked rigs can be brought back into the active fleet once market conditions improve, but reactivating rigs costs companies between $2 million and $10 million, depending on the rig's condition.
Rowan currently has a total of five idle rigs. Additionally, five more of its rig contracts are set to expire in 2015. If the company fails to acquire contracts for these rigs, it may choose to cold-stack them, which could hamper its revenue potential.
Possibilities for scrapping
Seven of Rowan's rigs are more than 30 years old. Out of these seven rigs, four have contracts extending beyond the second half of 2016, two rigs are idle, and one has a contract expiring in September 2015.
Looking at Rowan's fleet age, three of these rigs are potential scrapping candidates. When a company chooses to scrap rigs, it reduces its costs, but it also reduces its fleet size and therefore its earning potential.