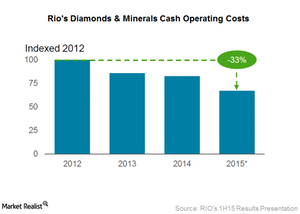 Will Rio Tinto's Growth Projects Lower Diamonds & Minerals Costs?
Diamonds & Minerals costs
As we've discussed in the previous part of this series, the demand for diamonds, uranium, and titanium dioxide feedstock is weak, leading to pressure on prices. To offset the impact of lower prices, operators in these products, including Rio Tinto (RIO), Dominion Diamond Corporation (DDC), BHP Billiton (BHP)(BLT), Cameco (CCJ), and Anglogold Ashanti (AU), are continuing to cut down costs. In this article, we'll see how RIO is pushing ahead with its cost-cutting efforts.
BHP and RIO form 6.7% of the SPDR S&P Natural Resources ETF (GNR).
Article continues below advertisement
Weaker demand is weighing on costs too
Weaker prices across most of RIO's products lowered underlying earnings by 7% year-over-year to $75 million.
RIO's decision to align titanium feedstock's production with market demand negatively affected its unit cash costs.
Improving productivity
RIO is relying on improving productivity and reliability in this division to weather the current weak price environment. These initiatives include system and process optimization, working capital optimization, and consistent and controlled operating procedures.
RIO has also reduced head counts significantly since the end of 2012.
The company is also pursuing a focused capital program with options to grow with high-value projects, which should help grow volumes along with lowering costs. These projects include:

Zulti South for titanium dioxide—investment decision expected in mid-2016
Bunder for diamonds
Jadar for lithium and borates
Titanium dioxide project in Mozambique
A potash project in Canada
Management also believes that cost and productivity initiatives will enhance RIO's structural position as demand returns and grows.