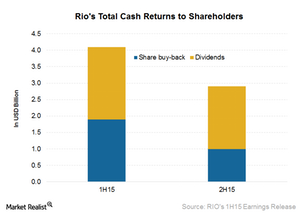 Will Rio Tinto Be Able to Deliver Further Cost-Cut Surprises?
By Anuradha Garg

Updated
Cash flow
In this depressed commodity price environment, miners are making efforts to improve volumes and reduce costs in order to generate cash flows. Positive cash flows help miners tide over in this weaker price environment by investing in low-cost, high-quality assets. Cash utilization also indicates a company's outlook in terms of expansion and growth. In this article, we'll see how Rio Tinto's (RIO) generating and using its cash.
Article continues below advertisement
Cash flow generation
RIO's cash flows reduced by $1 billion year-over-year (or YoY) in 1H15 due to reduced commodity prices. Reduced costs, along with favorable exchange rates and the release of working capital, helped offset some of this impact.
Management commented during the call that working capital remains a focus. Inventories and other receivables have improved by over $1 billion. Though this is partly due to benefits from prices and currency, it also reflects efforts to reduce its trade working capital.
RIO achieved cost savings of $641 million in 1H15 against the full-year target of $750 million. Keeping this accelerated cost cutting initiative in mind, management has increased its cost cut target for 2015 to $1 billion.
RIO also reduced its capital expenditure (or capex) by $1.4 billion to $2.5 billion for 1H15 without compromising on growth.
Earlier in the year, RIO had announced a target capex of under $7 billion, compared to $8 billion in 2014. However, now it expects to spend just $5.5 on capex in 2015—less than $6 billion for 2016 and ~$7 billion for 2017.
Management mentioned that it will only approve the best projects with the internal rate of return (or IRR) in excess of 15%.
BHP Billiton's (BHP)(BBL) is also reducing its capex target for the next two years. In comparison, Vale SA's (VALE) growth capex needs are quite high, as it's still in the process of ramping up its S11D project, a 90-million-ton-per-year iron ore project. Cliffs Natural Resources (CLF), on the other hand, is focusing on divesting non-core assets. It doesn't have any growth capex needs for the time being.
Together, BHP, RIO, and VALE account for 32.1% of the iShares MSCI Global Metals & Mining Producers ETF (PICK). The SPDR S&P Metals and Mining ETF (XME) also invests in metals and mining companies.
Returns to shareholders
Rio has returned $3.2 billion to shareholders in 1H15 through $2.2 billion in 2014 final dividend and $1 billion in share buybacks. Share buybacks include $400 million in an off-market buyback in Australia.
For 2015, the company expects to return $6 billion to shareholders with $1.9 billion of dividends and $1 billion of share buyback expected in 2H15. This interim dividend implies growth of 12% year-over-year. Management commented that this translates into an increase of 21% in pounds sterling and 40% in the Australian dollar.
On being asked about further buybacks next year, management said the decision will come in February next year. However, the priorities remain sustaining capital, dividends, growth capex, and balance sheet capacity and then further returns to shareholders.