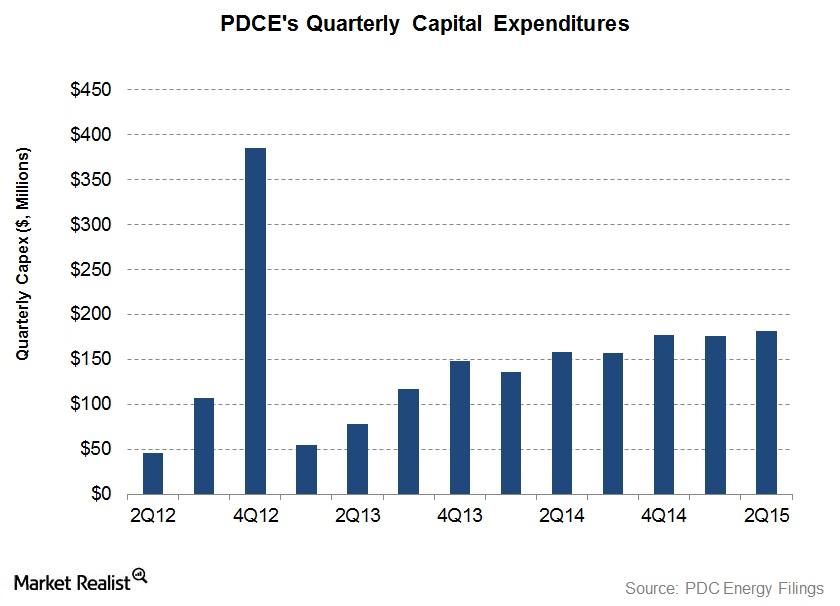 Will PDC Energy Decrease Its 2015 Capex?
PDC Energy's capex
In this article, we'll discuss PDC Energy's (PDCE) quarterly capex (capital expenditure) trend. Barring 4Q12 when capex had a sudden spurt, PDCE's capex in the past 13 quarters has been steady with an upward bias. Interestingly, even though its net income slumped in 2Q15 as crude oil crashed, its capex increased 15% to $182 million compared to 2Q14.
In 2012, PDCE acquired oil and gas properties in the Wattenberg Field for $306 million. This accounted for the 4Q12 capex spurt, as shown in the graph above. Will PDC Energy decrease its 2015 capex? Let's see.
Article continues below advertisement
PDC Energy's 2015 capex guidance
In its 2Q15 earnings press release on August 10, PDC Energy disclosed that it expects 2015 drilling capex to fall ~15% compared to 2014. It expects 2015 drilling capex to lie within a range of $520–$550 million. This reflects PDCE's non-operated drilling activity reduction in Wattenberg. In 2014, it spent ~$628 million capex on drilling.
WPX Energy (WPX), PDC Energy's peer, expects its 2015 capex to be around $725 million. This would be 60% lower than its $1.8 billion in capital investment in 2014. WPX is 0.13% of the Vanguard Energy ETF (VDE).
Will PDCE's efficiency increase?
PDCE's 2015 capex spend primarily reflects higher drilling efficiencies in the Wattenberg Field. Its 2015 production exit rate is expected to exceed 48,000 barrels of oil equivalent (or Boe) per day. Exit rate refers to production of crude oil or natural gas at a specified date. As a result, the company expects a 30% increase in drilling efficiencies. In 2015, it plans to spud 155 wells, compared to 119 in 2014.
Article continues below advertisement
Wattenberg field's returns
Based on $50 per barrel West Texas Intermediate (or WTI) crude oil and $3.00 per MMBtu natural gas price in 2015, PDCE expects its horizontal shale plays of Niobrara and Codell to generate 18%–60% rate of return. WTI is currently trading near $46 per barrel, while natural gas is trading near $2.7 per MMBtu. The Wattenberg field accounts for 91% of PDCE's total production.
Will PDCE reduce rigs?
PDCE has plans to reduce its rig count from five to four in late 2015 due to continued improvement in drilling efficiencies.
Read the following part, where we analyze PDC Energy's free cash flows.