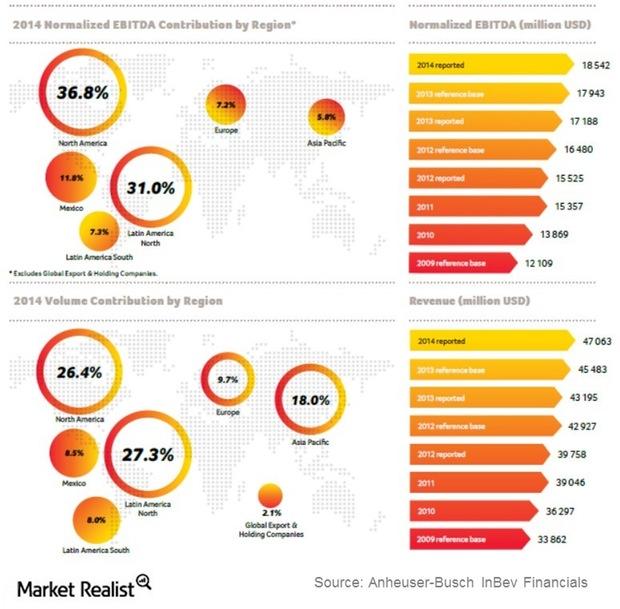 The Proposed ABI-SABMiller Deal: Will Market Concentration Rise?
By Phalguni Soni

Nov. 20 2020, Updated 11:44 a.m. ET
The economics of consolidation in beer
The global beer industry (XLP) is highly concentrated. According to Euromonitor International, the top five beer brewers accounted for nearly 52% of the total global sales volume in 2014. Anheuser-Busch InBev (BUD) (AHBIF) (ABI.BR), or ABI, is the market leader worldwide, with 20.8% of the beer market share. That's followed by:
SABMiller (SBMRY) (SAB.L), with 9.7% of the beer market share
Heineken (HEINY) (HEIA.AS), with 9.1%
Carlsberg (CABGY) (CBGA.SG), with 6.1%
China Resources Enterprises (CRHKF), with 6%
At the same time, there are hundreds of independent local brands and craft breweries that cater to niches in the market, and often these brands maintain loyal clientele.
Article continues below advertisement
Market dominance
As of December 2014, ABI holds the first place in beer among several markets including:
the US, with 46.4% of the market share
Canada, with 42.1%
Mexico, with 57.8%
Brazil, with 68.2%
Argentina, with 78.1%
Belgium, with 55.7%
According to a 2015 BrandZ Beer Report, ABI owns seven of the world's top ten beer brands in the world. And the company's thirst for acquiring new companies and brands continues to be insatiable. ABI has made over 100 acquisitions in the past 12 years.
Geographic footprint
ABI derives most of its sales and earnings from the Americas. It has practically no exposure to Africa, but that would change if the company acquires SABMiller.
As mentioned earlier in the first part of this series, SABMiller was originally a South African brewery. The company still derives most of its sales and earnings from Central America, South America, and Africa—the number one brewer in most of these markets. In fiscal 2015, which ended for SABMiller on March 31, 2015, the company derived ~63% of its global EBITDA (earnings before interest, taxes, depreciation, and amortization) from these markets.
The China factor
ABI is probably looking to grow its share of the market fastest in China, the world's largest beer market in terms of volume. The company is currently number three there, with 18% volume share of the market, in 2Q15.
SABMiller operates in China through its 20-year old partnership with China Resources Enterprise's CR Snow brand. China Resources Enterprise is the largest beer company in China. Snow is the world's top-selling beer brand in terms of volumes, and SABMiller holds a 49% interest in the brand.
Read the next part of this series for more on the would-be divestitures in the proposed ABI-SABMiller deal.