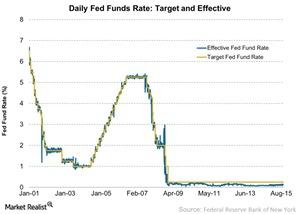 Why the Federal Funds Rate Matters to Restaurant Investors
By Adam Jones

Sep. 23 2015, Published 12:13 p.m. ET
The federal funds rate
With the Federal Reserve declining to raise its target interest rates once again, it is time to look at what this means for investors in restaurant stocks such as Chipotle (CMG), Shake Shack (SHAK), Starbucks (SBUX), and Panera (PNRA).
Article continues below advertisement
Target rate lowest since 2008
The daily federal funds target rate, which is currently between 0%–0.25%, is a target rate at which banks borrow and lend funds overnight among each other.
The effective target rate, which was 0.14% as of September 17, is the actual rate at which the banks lend or borrow overnight.
Why does this matter to a restaurant investor?
A low federal funds rate makes it cheaper for banks to borrow funds from other banks. This is passed on to consumers when they borrow from their banks.
A low interest rate environment means that the consumers are spending less of their income on interest toward their mortgages, car loans, or revolving credit. This allows consumers to spend more of their disposable income on recreational activities, including dining out at restaurants on a more regular basis.
Series overview
Just like any other investments, restaurants are directly affected by what happens in an economy. Because spending at a restaurant is a part of consumer discretionary spending (XLY), economic factors that impact consumer discretionary spending affect restaurant stocks as well.
In this series, we will update you with the most recent trends on indicators that can help you better understand the state of your investments in a restaurant company.