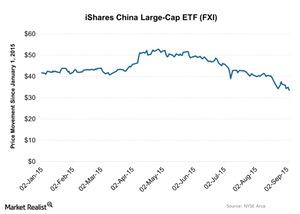 What Led to the Fall in China's Forex Reserves?
By Renee Blakely

Updated
Contributing factors
Since June 2015, China's stock market has been experiencing turmoil. Up until May 2015, its stock market had been soaring to unsustainable highs, and then after May 2015, there was a sudden selloff of shares, which led to a stock market crash.
The share selloff was discouraged by the Chinese government, which hoped to prevent panic.
Since November 2014, the Chinese government has cut interest rates almost five times, in order to make borrowing cheaper for its investors. These interest rate cuts gave way to the government's devaluation of the yuan on August 11, 2015, which it did in order to boost the country's exports.
Then came the weak PMI (purchasing managers' index) data of China, which pointed toward disconcerting rapid slowdowns in the Chinese economy. All these factors contributed to downward pressure on yuan, and so the currency started depreciating further.
To prevent further devaluation of yuan—to stabilize its currency—China's central bank, the People's Bank of China, intervened by spending around $50 billion to purchase yuan on August 12, 26, and 28, as reported by analysts from Deutsche Bank.
Meanwhile, the stocks of Chinese companies were affected. The graph below depicts the year-to-date movement of the iShares China Large-Cap ETF (FXI), which represents the condition of large-cap Chinese companies in the equity market.
From the above graph, we can see the fall in the Chinese ETF FXI since June 2015. During that period, stocks of companies like China Mobile (CHL), China Life Insurance (LFC), CNOOC (CEO), and PetroChina (PTR) got affected.
Article continues below advertisement
How can the Fed's rate impact China?
For over a quarter century, China has been a growing economy that is manufacturing-centric and export-oriented. Due to fear of losing competitiveness in the export market, the country resisted currency appreciation and aimed at the accumulation of forex reserves. Its accumulation of forex reserves has been instrumental in maintaining a certain exchange rate.
This model worked efficiently until its economic slowdown in 2015, wherein China's statistics agency revised the GDP (gross domestic product) growth rate to 7.3% for 2014, compared to the previously reported 7.4%.
When we look at the current year's manufacturing slump in China, a GDP growth rate of around 7% is uncertain. Now, China is turning toward what is called a consumption economy, in addition to being an export-oriented economy. Hence, China might revise its forex reserve policies as well as the exchange rate of the yuan. It will certainly monitor the monetary policy of the US, since a rise in interest rates in the US could very well lead to capital flight from China to the US.
For a further read on China, visit our series A Slowing Chinese Economy: Impact on China-Focused Mutual Funds.