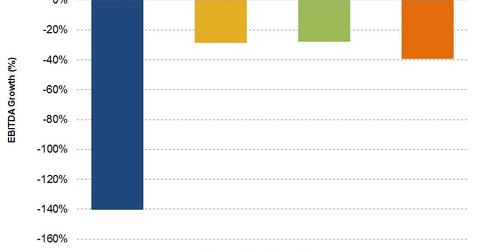 Weatherford's 2Q15 EBITDA Drop among the Highest in Industry
By Alex Chamberlin

Updated
Transocean's and FMC Technologies' operating performance better than others'
Transocean (RIG) recorded a 28% drop in 2Q15 EBITDA (earnings before interest, tax, depreciation, and amortization) compared to the corresponding quarter a year ago. Its 2Q15 EBITDA was $755 million versus $1.04 billion a year earlier. Its operating and maintenance costs plummeted 84% in 2Q15 over 2Q14, even as day rates and rig utilization fell. The significant cost decrease resulted from $788 million in reimbursements from litigation settlements and insurance recoveries related to the 2010 Macondo well incident (also known as the Deepwater Horizon incident). Transocean also benefited from decreased costs associated with operation of fewer rigs, idled or stacked rigs, and lower compensation.
Article continues below advertisement
FMC Technologies (FTI) recorded a 29% drop in 2Q15 EBITDA compared to the corresponding quarter a year ago. Its 2Q15 EBITDA was $226 million versus $318 million a year earlier. The primary reasons FTI's operating performance deteriorated were lower earnings from fluid control and completion services and subdued North American wellhead activities. FTI's Subsea Technologies segment posted better operating results in 2Q15 due to higher margin project backlog conversion in the Western Region and Asia-Pacific, as well as a higher margin product mix. FTI is 3.93% of the VanEck Vectors Oil Services ETF (OIH).
Why did Weatherford's and Core Laboratories' performance falter?
Core Laboratories (CLB) recorded a 39% 2Q15 EBITDA drop compared to 2Q14. Its 2Q15 EBITDA was $54.8 million versus $90.4 million a year earlier. FTI's operating costs did fall, but as discussed in the previous part, they didn't fall as sharply as revenues, which pressured EBITDA. CLB's cost of services and cost of products decreased by 12% and 36%, respectively, from 2Q14 to 2Q15. Lower upstream activity levels translated into lower cost of services. The significant reduction in cost of products was attributable to lower operating activities and various cost reduction initiatives, which FTI had begun in 1Q15. To learn why CLB's revenues decreased, read the previous part of this series.
Weatherford International's (WFT) 2Q15 EBITDA turned negative compared to 2Q14. Weatherford's 2Q15 EBITDA loss was $153 million, a sharp reduction from its $380 million EBITDA a year earlier. The following are the primary reasons its 2Q15 operating performance deteriorated:
WFT's North America operating income dropped by 138%, led by a huge rig count reduction in the United States. This led to rate negotiations and eventually pricing pressure, leading to lower income.
In the Asia-Pacific region, lower operating income can be attributable to project losses on legacy contracts in Iraq and lower activity across most product lines.
In Europe and Russia, the company's operating income dwindled as revenues decreased.
In Latin America, WFT's operating income was flat compared to the corresponding quarter a year ago.
We will look at the EPS growth figures of these companies in the following section.