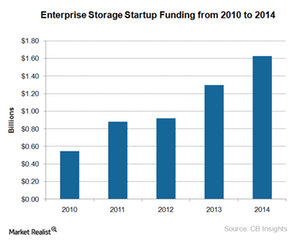 A Wave of Startups Has Hit the Data Storage Space
By Puja Tayal

Sep. 22 2015, Published 2:32 p.m. ET
Evolution of the data storage industry
The data storage industry has evolved slowly from hard disk drives to cloud technology. The first hard disk was invented by IBM (IBM) in 1956. Then came the SSD (solid state drive), which was introduced by Dataram in 1976. The next major innovation was flash memory introduced by Toshiba in 1984. We are now in the era of cloud storage. With all of this innovation, there have been a wave of startups.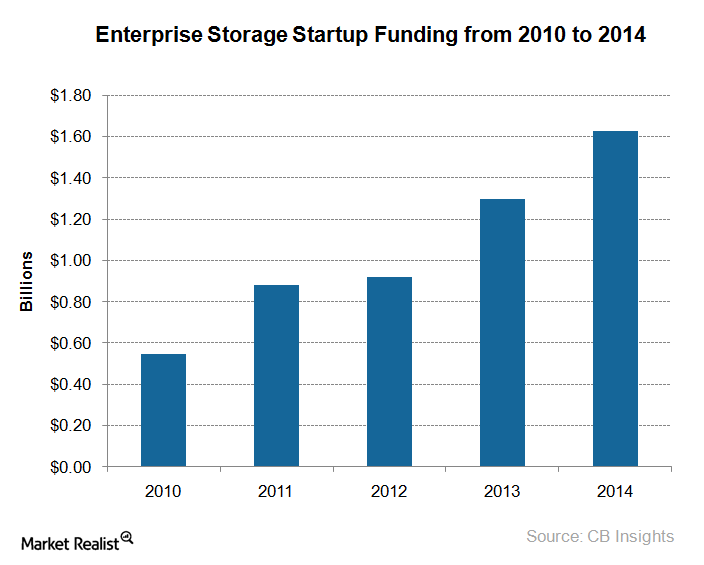 Article continues below advertisement
Data storage becomes a hot investment
The data storage space has caught the attention of venture capitalists as they see huge potential in this sector. IDC (International Data Corporation) forecasts that enterprises will spend over $40 billion on storage hardware in 2015, according to an article in the Wall Street Journal.
As seen from the above chart, enterprise storage startups raised $1.62 billion in funding in 2014, up 25% year-over-year. Between 2010 and 1H15, venture capitalists invested over $6 billion into 96 storage startups, according to CB Insights. Lightspeed Venture Partners invested in Nimble Storage, Nutanix, Primary Data, and Tintri, while Intel Capital (INTC) invested in Virident Systems, Maginatics, and Box. We will discuss these startups in detail in the later part of the series.
Startups versus tech leaders
Storage startups are emerging in the space of new technologies such as flash, hybrid, hyper-convergence and cloud, posing competition to tech leaders like Dell, EMC (EMC), HP (HPQ), IBM, and NetApp (NTAP).
For instance, startups like Pure Storage, Kaminario, Violin Memory, and SolidFire have sprung up in the space of flash memory. Pure Storage started in 2009 and is now named in the Gartner's leaders quadrant alongside IBM and EMC.
Startups like Nimble Storage, Tintri, and Tegile are emerging in the space of network-attached storage systems and hybrid arrays, where HP, Dell, and NetApp lead. The iShares Dow Jones US Technology ETF (IYW) has 4.07% of its holdings in IBM, 1.52% in HP, and 1.44% in EMC.