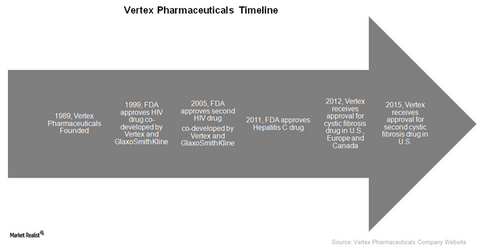 Vertex Pharmaceuticals: Investor's Guide to a Top Biotech Company
By Margaret Patrick

Updated
Vertex Pharmaceuticals: An overview
Based in Boston, Massachusetts, Vertex Pharmaceuticals (VRTX) is a leading biotechnology company. The company develops innovative therapies for patients with diseases such as human immunodeficiency virus (or HIV), hepatitis C virus (or HCV), and cystic fibrosis (or CF).
Vertex Pharmaceuticals has a market capitalization of $30.4 billion. Peers such as Regeneron Pharmaceuticals (REGN), AbbVie (ABBV), and Amgen (AMGN) have market capitalizations of about $57.1 billion, $101.3 billion, and $114.2 billion, respectively.
Article continues below advertisement
History of Vertex
Vertex Pharmaceuticals was founded in 1989 by Joshua Boger, Ph.D., in Cambridge, Massachusetts, with $6 million in venture capital Vertex Pharmaceuticals has a longstanding tradition of being a pioneer in various challenging disease areas.
The company's first wholly owned drug entered the market in 2011. The earlier years were marked by several successful collaborations and co-development efforts. In 1990, the company entered into its first research collaboration with Chugai Pharmaceutical in a $30 million deal. Two years later, Vertex signed a deal with Japanese company Kissei Pharmaceutical for developing HIV medicines.
Vertex was the first company to publish structure of an HCV virus in a cell, forming a foundation for developing HCV drugs. The FDA (U.S. Food and Drug Administration) approved two HIV drugs, one in 1999 and another in 2005, both developed by Vertex in collaboration with GlaxoSmithKline. In 2006, Vertex Pharmaceuticals entered into a collaboration with Johnson & Johnson to develop HCV drugs.
Vertex Pharmaceuticals is the first and only company to target the root cause of cystic fibrosis. In 2011, the FDA approved the company's first cystic fibrosis drug, which was later approved in Canada and Europe. In 2015, Vertex further strengthened its cystic fibrosis franchise by getting approval for the second CF drug.
Investors can get exposure to Vertex Pharmaceuticals while avoiding company-specific risks by investing in the iShares Nasdaq Biotechnology ETF (IBB). Vertex Pharmaceuticals accounts for 4.24% of IBB's total holdings.