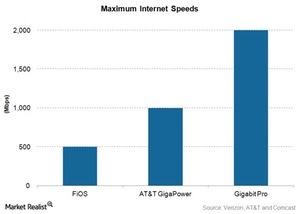 Verizon Tests 10-Gigabit Internet Service
By Ray Sheffer

Sep. 16 2015, Updated 11:07 a.m. ET
Verizon's recent test
In the earlier parts of this series, we learned about AT&T (T) GigaPower's U-verse product. We looked at the relative speeds offered by the DSL (digital subscriber line) and fiber offerings of telecom companies.
We learned that cable companies continue to dominate the Netflix ISP Speed Index, a reliable measure of Internet service speed. We also learned that Verizon's (VZ) FiOS fiber-based service nabbed the third spot on this index in July 2015.
Recently, Verizon tested the next level of high-speed Internet technology.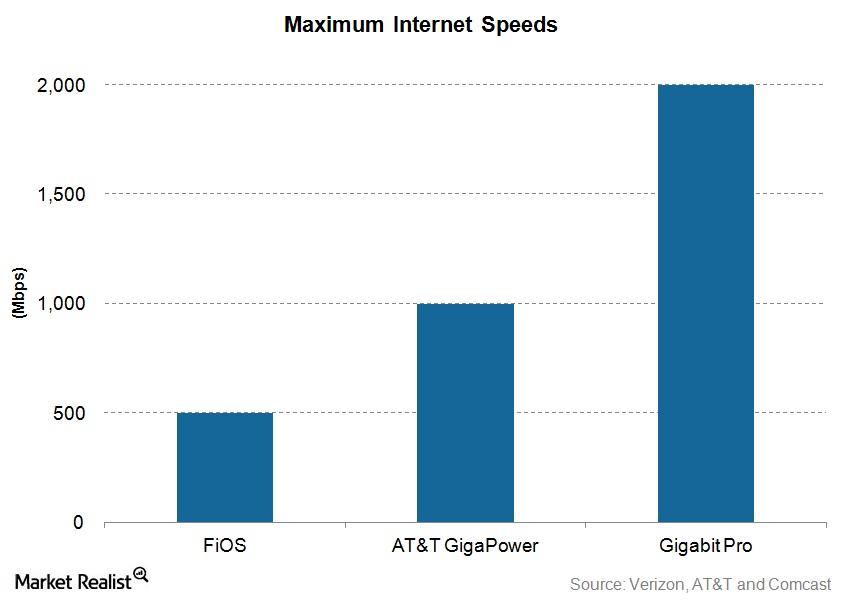 Article continues below advertisement
Verizon plans initial business use for 10-gigabit Internet service
According to a recent Verizon press release, "Verizon has successfully completed a test of a new technology on its industry-leading, fiber-to-the-premises network, that in the future could easily provide businesses and consumers with upload and download Internet speeds of up to 10 gigabits per second (Gbps), and the potential to increase this speed even further." Verizon used NG-PON2 (next-generation passive optical network) technology and equipment from PT Inovação and Cisco (CSCO) to run the test.
According to the press release, the company initially plans to make this service available for business use. In the future, the company anticipates demand for this service from the IoT (Internet of Things) as well as 4K (Ultra-HD) video. The maximum Internet speed currently offered by Verizon's FiOS is much lower than AT&T's (T) GigaPower and Comcast's (CMCSA) Gigabit Pro.
Anticipated growth in Ultra-HD
In the short-to-medium term, increasing the use of Ultra-HD (high-definition) video is expected to cause significant growth in Internet video traffic. According to the Cisco VNI (Visual Networking Index) forecast, Ultra-HD usage accounted for just 1% of Internet video traffic in 2014. By 2019, Ultra-HD is expected to represent 21.2% of Internet video traffic.
Instead of taking a direct exposure to Verizon's stock, you may consider taking a diversified exposure to the company by investing in the SPDR Dow Jones Industrial Average ETF (DIA). Verizon made up ~1.9% of DIA as of August 31, 2015.