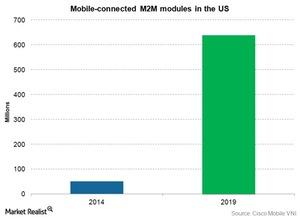 Verizon on 5G and the Growth of the Internet of Things
By Ray Sheffer

Updated
Benefits of 5G
In the previous part of this series, we learned about Verizon's (VZ) planned initiatives toward a 5G wireless network. We also learned about key attributes of the technology in terms of speeds and latency. Verizon's press release highlighted the possible advantages of a 5G network and a key growth area it may cater to.
According to the company's press release, "The expected benefits of 5G, as described during Verizon's inaugural forum, include about 50 times the throughput of current 4G LTE, latency in the single milliseconds, and the ability to handle exponentially more Internet-connected devices to accommodate the expected explosion of the Internet of Everything."
Article continues below advertisement
Verizon's Internet of Things
According to Verizon, it had more than 15 million connections of IoT, or Internet of Things, in 2014. Plus, it generated revenue of ~$585 million from Telematics and IoT during the year. Also, in 1H15, the telecom company's revenue from IoT and Telematics was ~$320 million.
Medium-term outlook
Cisco (CSCO) expects robust growth in machine-to-machine or M2M modules, which are connected via mobile, in the US. According to Cisco's Mobile VNI (Visual Networking Index) forecasts, these M2M connections are expected to grow from 51 million in 2014 to 639 million in 2019.
Instead of investing directly in Verizon's stock, you may consider taking a diversified exposure to Verizon by investing in the iShares Russell 1000 ETF (IWB). This ETF held ~0.9% in the wireless carrier on August 31, 2015.
On the same date, IWB also held a total of ~1.1% in AT&T (T), Sprint (S), and T-Mobile (TMUS)—the other top US wireless carriers.