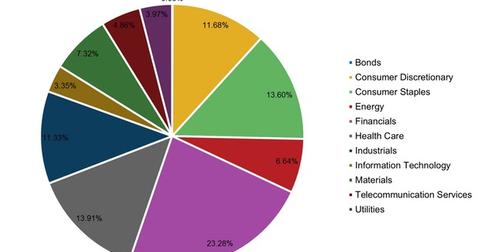 Vanguard European Stock Index Fund Investor Shares (VEURX)
By David Ashworth

Updated
Vanguard European Stock Index Fund Investor Shares
The Vanguard European Stock Index Fund Investor Shares Fund (VEURX) notes that it aims to "track the performance of a benchmark index that measures the investment return of stocks issued by companies located in the major markets of Europe."
The new target index of the fund is the FTSE Developed Europe All Cap Index, which presently tracks the FTSE Developed Europe Index. The fund house has not disclosed the timing of index change to avoid front-running. Due to the composition of its underlying index, the fund provides exposure to stocks of companies in 17 European nations.
Article continues below advertisement
Fast facts
The fund has been in existence since June 1990 and is the largest among all the funds in this review. As of August 2015, the Vanguard European Stock Index Fund was managing assets worth a mammoth $20.8 billion. Geographically, 31.5% of the fund's assets were invested into companies in the UK at the end of August 2015. Companies from Switzerland, France, Germany, and Spain round off the top five invested geographies.
The share class's net expense ratio is quite low at 0.26%. The management fee is 0.23%, and it does not charge any distribution and service (12b-1) fees. It is a no-load fund and charges a service fee of $20 per year for certain fund account balances below $10,000. The minimum initial investment in the share class is $3,000 with additional investments in multiples of $1.
The fund had 530 stocks in its portfolio as of the end of August, with its top ten holdings making up 18.1% of August's portfolio. Nestlé S.A. (NSRGY) was the fund's top holding with an exposure of 2.9%. Other major holdings included Royal Dutch Shell plc (RDS.A), Bayer AG (BAYZF), Sanofi (SNY), and Novo Nordisk A/S (NVO). They formed a combined 6% of total assets of the fund.
Fund manager
Gerard C. O'Reilly, who is the principal of Vanguard, is the manager of the VEURX. He has been managing the fund since August 2008.
We'll look at the fund's performance for August 2015 in the next article.