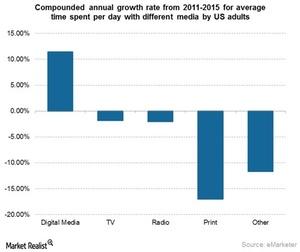 Why US Viewers are Shifting from TV to Digital Media
By Shirley Pelts

Updated
The shift from TV to digital media
In the previous part of this series, we looked at the decline in advertising revenues for media companies and the trend of viewers in the US shifting from television to digital media. In this article, we will look at the reason for this shift in preferences and the reason for declining advertising revenues.
The change of content viewing from TV to digital media on computers and mobile devices has been due to increased penetration of Internet and faster Internet speeds. It has also been helped along by Internet-connected TV devices like Google's (GOOG) Chromecast and Apple (AAPL) TV.
Article continues below advertisement
According to a report from eMarketer and as the chart above indicates, the compound annual growth rate (or CAGR) for the average time spent per day with TV for US adults from 2011–2015 has declined by 1.8%. On the other hand, this metric is increasing for digital media and stands at 11.4%. All other types of media, including radio and print, are also showing this decline in CAGR for the average time spent per day by US adults.
Pay-TV subscribers cutting the cord
Cord-cutting has been another trend that is affecting pay-TV operators like Comcast (CMCSA). This includes the Millenial generation, those in the age group of 18–34 years who are moving from pay-TV to viewing content online. Pay-TV subscribers may be watching more content online because over-the-top subscriptions provide them with program schedule flexibility, the ability to skip commercials, and access to sequential episodes.
Another reason for pay-TV subscribers moving to digital content is the cost factor. According to a Digitalsmiths report for 1Q15 conducted among 3,144 consumers, around 60% of these consumers are spending more than $100 per month on bundled services from pay-TV operators. Comparatively, Netflix (NFLX) offers the cheapest subscription at ~$8–$11 per month.
You can get a diversified exposure to Netflix by investing in the SPDR S&P 500 ETF (SPY) which holds 0.22% of the stock.