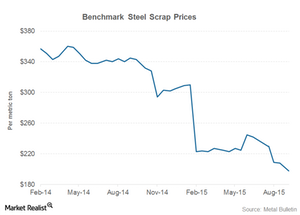 How Upstream Exposure Could Impact Steel Companies
By Mohit Oberoi, CFA

Oct. 6 2015, Updated 5:07 p.m. ET
Upstream exposure
Upstream exposure has been one of the factors driving the recent performances of steel companies. Iron ore and coal mining would fall under steel companies' upstream operations. Steel companies have varying levels of upstream exposure. In this article, we'll look at the recent trend in steel companies' upstream operations.
Article continues below advertisement
Upstream exposure varies
ArcelorMittal (MT) produces almost two-thirds of its iron ore through captive mines. The company is now among the top five iron ore miners globally, making it a play on both steel and iron ore. However, it only sources 20% of its coal through captive mines and long-term contracts.
AK Steel (AKS) produces almost a quarter of its coal requirements from captive mines. It currently forms 4.24% of the SPDR S&P Metals and Mining ETF (XME).
U.S. Steel Corporation (X) is largely self-sufficient in the iron ore requirements for its US operations. However, it sources all of its iron ore from third parties in Europe. Our estimates show that on a consolidated basis, it currently produces ~75% of its iron ore through captive mines.
Strategic change
Steel Dynamics (STLD) has idled its iron ore facility in Minnesota. The company stated that a "lower raw material cost environment certainly advantages our steel operations," however, "it has resulted in an uneconomic situation for our iron nugget operations."
AK Steel has also written off its entire investment in Magnetation, its iron ore joint venture. The company will now be sourcing its iron ore needs from third parties.
When raw materials like iron ore and coal are trading higher, the steel companies that produce them through captive mines are at a competitive advantage. However, when the prices of these commodities are lower, as they currently are, vertically integrated steel companies are at a competitive disadvantage.
Unlike their integrated peers, steel companies that source these raw materials from third parties have been able to bring down their unit production costs.
Mini-mills at an advantage
Steel scrap prices have fallen, as can be seen in the chart above. Steel Dynamics and Nucor, which primarily use steel scrap for steel production, have benefited from these falling prices. These companies could continue to outperform their integrated peers under a low raw material price scenario.
In the next article, we'll do a comparative analysis of steel companies' EBITDA (earnings before interest, taxes, depreciation, and amortization) margins.