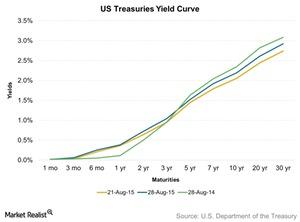 Upbeat 2Q15 US GDP Estimates Raise Treasury Yields
By Lynn Noah

Updated
Secondary market
Treasury yields rose across the yield curve in the week ended August 28, 2015, after the upbeat 2Q15 US real gross domestic product (or GDP) data. Plus, yields were pushed upward after Stanley Fischer, vice chair of the Federal Reserve, commented on the possibility of a rate hike in September.
This rise was in the range of 2–18 basis points from three-month to 30-year maturity securities. Yields rose in double digits for long-term Treasuries. Yields on the benchmark ten-year note ended at 2.19%, up by 14 basis points from the previous week.
Article continues below advertisement
Comments by Federal Reserve's vice chair
Treasury yields rose after the comments made by Stanley Fischer indicated the possibility of a rate hike in September, although no timeline has been finalized for a potential hike.
On August 29, 2015, during a panel at the Kansas City Fed's Economic Symposium in Jackson Hole, Wyoming, Fischer noted, "Given the apparent stability of inflation expectations, there is good reason to believe that inflation will move higher as the forces holding down inflation dissipate further." He added, "Yet, because monetary policy influences real activity with a substantial lag, we should not wait until inflation is back to 2% to begin tightening."
Economic indicators
Numerous economic indicators were released last week. However, the most important were the estimates of 2Q15 real GDP and durable goods orders data.
The annualized real GDP for 2Q15 rose 3.7%, according to the second estimate released by the Bureau of Economic Analysis. This growth rate was revised up 1.4% from the advance estimate released in July. This indicates that the US economy is expanding and supports the rate hike decision.
Article continues below advertisement
Durable goods orders rose 2% in July, mainly driven by auto sales that were supported by cheaper fuel. An increase in durable goods orders leads to increased manufacturing and economic activity. A rise in auto sales directly adds to the margins of automobile companies such as Ford (F), General Motors (GM), and Tesla Motors (TSLA).
Investment impact
A rise in Treasury yields across the yield curve led to a fall in mutual funds returns, as prices and yields are inversely related. Week-over-week returns of the T. Rowe Price GNMA (PRGMX) and the American Century Ginnie Mae A (BGNAX) came in at -0.26% and -0.24%, respectively.
Several Treasury note auctions took place last week. We'll look at them in detail, beginning with the auction of seven-year Treasury notes.