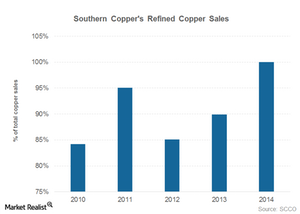 Understanding Southern Copper's Production Process
By Mohit Oberoi, CFA

Sep. 20 2015, Published 10:22 a.m. ET
Southern Copper's operations
Southern Copper (SCCO) has fully integrated copper operations. This essentially means the company owns copper mines and also has copper smelting and refining operations.
Copper has a long production process. It's traded internationally as copper concentrates, anodes, cathodes, and ingots. Freeport-McMoRan (FCX), BHP Billiton (BHP), and Rio Tinto (RIO) are the major copper producers and exporters.
End-to-end copper operations is another reason for Southern Copper's higher profit margins. The share of refined copper in Southern Copper's sales volumes has risen steadily. In 2014, the company sold only refined copper, as you can see in the graph above.
Article continues below advertisement
Southern Copper's production process
Southern Copper uses an SX-EW (solvent extraction and electrowinning) production process for a significant portion of its production. The SX-EW process, developed in the mid-1980s, utilizes acid that's produced as a byproduct in copper smelting to produce copper. According to the Copper Development Association, close to 40% of copper in Latin America (ILF) is produced using this process.
The SX-EW process has some inherent advantages over the conventional copper production process.
According to the Copper Development Association, by using the SX-EW process, "copper can be produced from sources that in the past would have gone untouched, thus reducing the reliance on conventional ore bodies."
The SX-EX process is less energy-intensive compared to the conventional production process.
In the next part, we'll explore how Southern Copper's low-cost operations reflect in its financial performance.