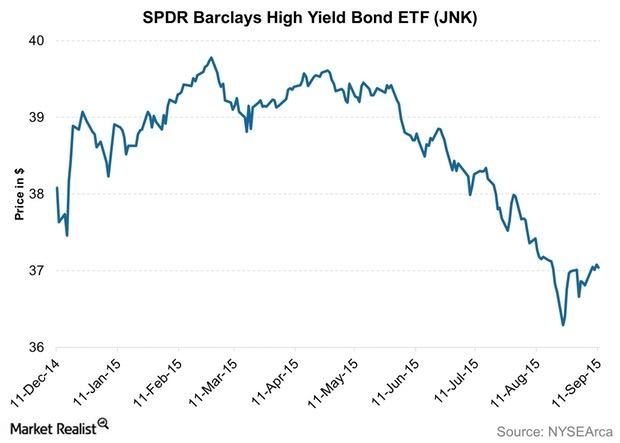 Uncertainty Moved US Financial Markets Last Week
By David Ashworth

Sep. 16 2015, Updated 12:59 p.m. ET
US stock indices slump
All three US equity indices that we review in this weekly series rose in the week to September 11, 2015, after having slumped in the previous week. The S&P 500 Index, tracked by the SPDR S&P 500 ETF (SPY) and the iShares Core S&P 500 ETF (IVV), rose 2.1%. The Dow Jones Industrial Average (DJIA), tracked by the SPDR Dow Jones Industrial Average ETF (DIA), rose 2.0% week-over-week. Among the three, the NASDAQ rose the most, and was up by 3.0% last week.
UnitedHealth Group Incorporated (UNH) and McDonald's (MCD) led the gainers on the Dow. Meanwhile, Gilead Sciences (GILD) was in the news on talk of the company looking at acquisition after it filed for raising bonds worth $10 billion.
Article continues below advertisement
Uncertainty moves markets
Uncertainty regarding the Federal Reserve meeting on September 16-17 moved markets last week. US financial markets were unable to make up their minds about the possible outcome of the policymaker meeting.
For a while, market participants have viewed the upcoming meeting as the one in which the Federal Reserve will raise the federal funds rate from zero-lower bound. The holiday-shortened week did little to solidify expectations from the meeting. US financial markets were closed on September 7 on account of Labor Day.
However, except the labor market, other indicators do not paint a strong enough picture of the economy. For instance, consumer sentiment fell to the lowest in 12 months in September. Policymakers will take into account consumer perception about the economic future along with international developments, while deliberating over a rate hike.
Article continues below advertisement
International developments
For some time now, international developments have been pointing to only one nation, China. Some concerns were heightened after China's trade data for August came out. Data showed that China's exports in US dollar terms fell 5.5%, while the country slashed imports by 13.8%, showcasing that weakness in the nation's economy may be protracted. The Fed will certainly look at China and other nations like Brazil, which was downgraded to junk, while considering whether to hike rates at this juncture.
Junk bonds
Junk bond yields fell week-over-week. With this fall, ETFs investing in junk bonds like the SPDR Barclays High Yield Bond ETF (JNK) and the iShares iBoxx $ High Yield Corporate Bond ETF (HYG) rose in the week ended September 11.
This series will cover the developments in the primary and secondary markets for high yield debt and leveraged loans. We will begin with developments in the high yield primary market issuance.