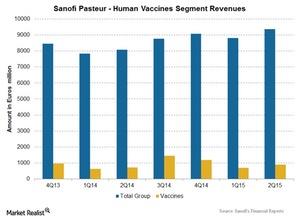 How Did Sanofi Pasteur Perform in 2Q15?
By Mike Benson

Sep. 30 2015, Updated 4:06 p.m. ET
Sanofi Pasteur
Sanofi Pasteur, the human vaccines business of Sanofi (SNY), reported an 8.6% increase at constant exchange rates to 887 million euros in its 2Q15 revenues. This increase was mainly driven by influenza vaccines, adult booster vaccines, and VaxServe.
Article continues below advertisement
Influenza vaccines
Influenza vaccines, including Vaxigrip and Fluzone, reported sales of 114 million euros in 2Q15, an increase of 88.1% at constant exchange rates over 2Q14. This increase was due to two new strains included in the influenza vaccines this year, which proved to be positive for Sanofi during the delayed Southern hemisphere influenza campaign. Other companies like Pfizer (PFE) and GlaxoSmithKline (GSK) compete with Sanofi on certain vaccines.
Adult booster vaccines
Adult booster vaccines, including Adacel, reported revenues of 118 million euros in 2Q15, an increase of 21.7% at constant exchange rates over 2Q14 due to Adacel sales in the US.
Article continues below advertisement
Polio/Pertussis/Hib vaccines
This franchise includes Pentacel, Pentaxim, and Imovax among other vaccines. This franchise reported a sales decrease of 14.1% to 273 million euros due to lower sales of Pentacel in the US and Pentaxim in China.
Other products
The segment's other products include meningitis and pneumonia vaccines, travel and other endemic vaccines, and other vaccines. Meningitis and pneumonia vaccines, including Menactra, reported a 7% increase in revenues at 145 million euros. Travel and other endemic vaccines reported a 14.6% decrease at 97 million euros, while other vaccines reported a 52.7% increase at 140 million euros in 2Q15. All these growth rates are at constant exchange rates.
Sanofi Pasteur MSD
Sanofi Pasteur MSD is a joint venture of Sanofi Pasteur with Merck and Co. (MRK) in Europe. Sanofi Pasteur MSD sales increased by 3.6% on a reported basis to 161 million euros. This amount is not consolidated in the above figures.
Investors can consider ETFs like the Health Care Select Sector SPDR ETF (XLV) or the VanEck Vectors Pharmaceutical ETF (PPH) in order to divest the risk.