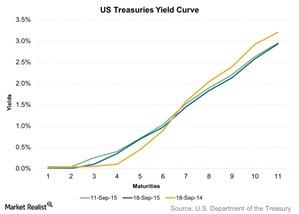 Treasury Yields Fell as the Interest Rates Stayed the Same
Secondary market
Treasury yields fell across the yield curve for the week ending September 18, 2015. The interest rates stayed the same. The demand for safe-haven assets rose amid global uncertainty.
However, the fall in the yields was restricted to single digits, except for the six-month Treasury bills, or T-bills. Their yields fell by 15 basis points week-over-week. The yield on the benchmark ten-year Treasury notes, or T-notes, fell by seven basis points week-over-week. They ended at 2.13%.
Article continues below advertisement
FOMC meeting
The FOMC's (Federal Open Market Committee) two-day policy meeting ended on September 17, 2015. The much-awaited rate hike didn't materialize amid low inflation in the US, financial market volatility, and the uncertain economic climate around the globe.
Janet Yellen, the Fed Chair, said that "We can't expect that uncertainty to be fully resolved. But in light of the developments that we have seen and the impacts on financial markets, we want to take a little bit more time to evaluate the likely impacts on the United States. And as I mentioned, the inflation outlook has softened slightly. We've had some further developments, namely, lower oil prices and a further appreciation of the dollar that have put some downward pressure in the near-term on inflation."
She also added that most policymakers still expect to raise rate this year.
Economic indicators
Advance retail sales data and the CPI (Consumer Price Index) impacted Treasury yields.
Advance retail sales data were released on September 15, Treasury yields rose as retail sales rose modestly by 0.20% in August. This shows that the US economy is picking up. A rise in retail sales is good news for large retail stores like Walmart (WMT), Target (TGT) and JCPenney (JCP).
Treasury yields fell after the CPI data were released on September 16 before the FOMC meeting. The CPI fell in August by 0.10% month-over-month, mainly due to the fall in gasoline prices. This is the first fall since January 2015. However, on a YoY (year-over-year) basis, the CPI grew 0.20% in August. This low level of inflation doesn't give the Fed enough confidence to raise the interest rates.
Investment impact
The following mutual funds provide exposure to Treasuries. Falling Treasury yields have a positive impact on mutual funds' returns.
The MFS Government Securities A (MFGSX) fund provided weekly returns of 0.20%. The American Funds US Government Sec A (AMUSX) fund provided a week-over-week return of 0.50%.
In the next part, we'll look at the ten-year TIPS (Treasury Inflation-Protected Securities) auction.