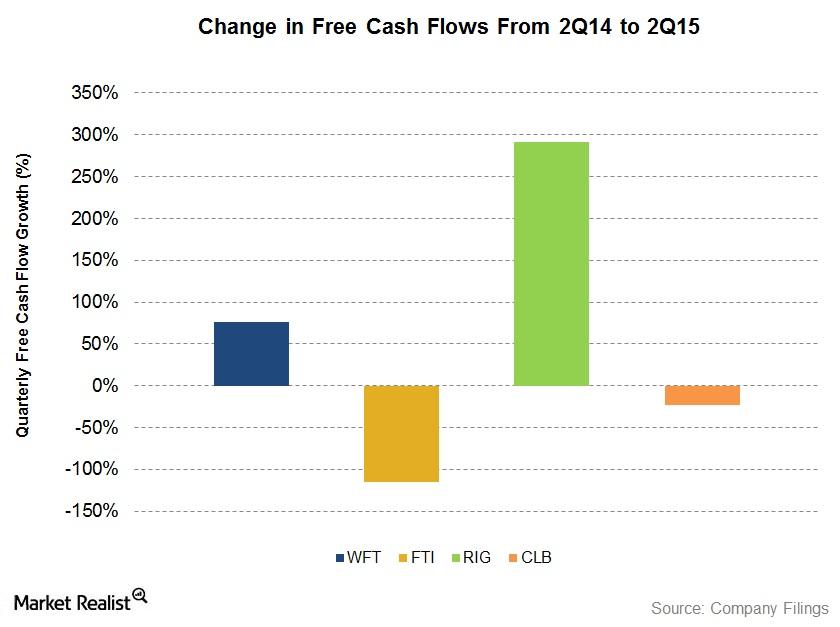 Transocean's Free Cash Flow Growth Remarkable among Peers
By Alex Chamberlin

Sep. 24 2015, Updated 9:07 a.m. ET
Comparing free cash flow growth
In this article, we will look into free cash flow, or FCF, growth of Weatherford International (WFT), FMC Technologies (FTI), Transocean (RIG), and Core Laboratories (CLB)–four prominent names in the OFS (oilfield equipment and service) space.
Free cash flow is defined as cash flow from operations, or CFO, less capital expenditures, or capex.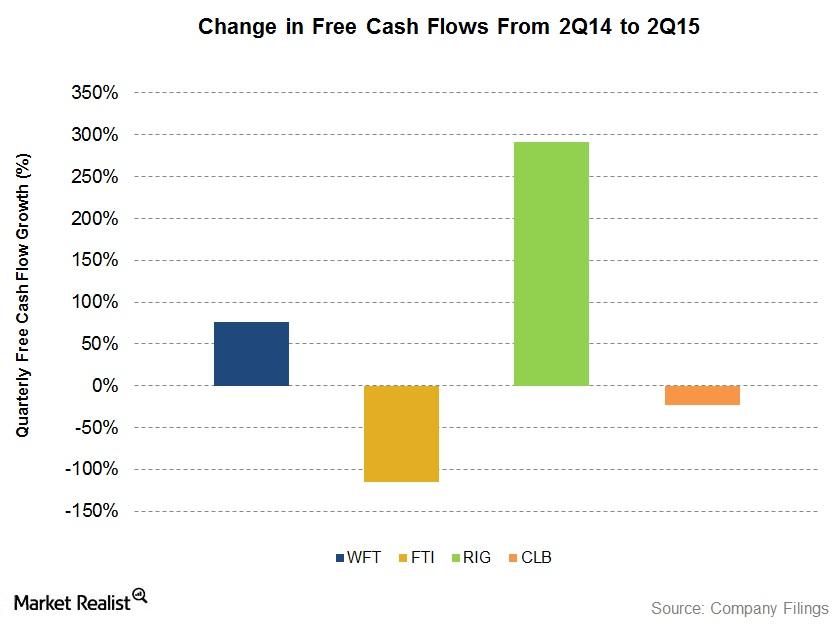 Article continues below advertisement
The 2Q15 FCF growth leader: RIG
Transocean recorded 292% FCF growth in 2Q15 compared to 2Q14. Transocean's free cash flow was $1.11 billion in 2Q15 versus $285 million a year earlier. The company's 2Q15 CFO more than doubled in 2Q14, while its capex decreased 44% over the same period. Most of its CFO growth emanated from higher insurance recovery cash proceeds and decreased scheduled payments, both related to the Macondo well incident settlement. The Macondo well accident took place in April 2010. The lower 2Q15 capex reflects lower drillship construction programs compared to 2Q14.
Weatherford International's FCF increased
Weatherford International recorded a 76% 2Q15 FCF rise compared to the corresponding quarter a year earlier. Its 2Q15 FCF was $104 million against $59 million in 2Q14. Although its CFO decreased 33% in 2Q15 from 2Q14, its capex decreased even more (50%) during the same period, leading to a higher FCF.
Article continues below advertisement
Core Laboratories FCF decreased
Core Laboratories recorded a 23% 2Q15 FCF decrease compared to 2Q14. Its 2Q15 FCF was $41.3 million against $53.5 million in 2Q14. CLB's 2Q15 CFO decreased 29% from 2Q14. It spent just $5.4 million on capital expenditures in the latest quarter. CLB is 0.34% of the Vanguard Energy ETF (VDE).
FMC Technologies' negative FCF
FMC Technologies' 2Q15 FCF turned negative compared to 2Q14. Its 2Q15 FCF came in at -$14 million against $96 million in 2Q14. From 2Q14 to 2Q15, its CFO crashed 67%, which more than offset a 15% capex fall, leading to the FCF decrease. FTI's CFO decreased primarily as a result of lower 2Q15 revenue. To learn why FTI's revenues declined, read part 2 of this series.
In the following section we will look into these companies' debt.