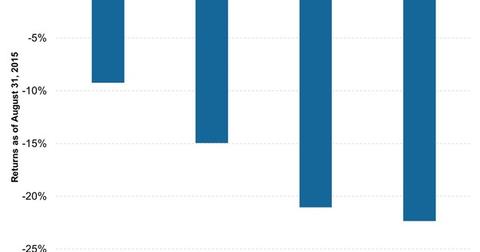 Why Top Stocks Hurt the BlackRock Latin America Inv A (MDLTX) in August 2015
By David Ashworth

Updated
Performance evaluation
In August 2015, the BlackRock Latin America Inv A (MDLTX) fell by 9.2% from a month prior, putting its performance in the middle of a pack of eight funds we're analyzing in this series. In the three-month period that ended August 31, the fund was down by 15.0%—the second-lowest in our group of eight. In the six-month period that ended on the same date, it was down by 21.0%. In the YTD (year-to-date) period, the fund was down by 22.3%. In the six-month and YTD periods, the fund's performance placed it in the bottom half of our funds under analysis.
Now let's look at what led to this performance.
Article continues below advertisement
Portfolio composition and contribution to returns
MDLTX's portfolio focused on the financials, consumer staples, and materials sectors, with exposures of 29.8%, 24.1%, and 16.5%, respectively. The consumer discretionary and telecom services sectors came in distant fourth and fifth places, with exposures of 6.6% and 6.4%, respectively.
Financials, consumer staples, and consumer discretionary were the top three negative sectoral contributors to returns for August. Brazil's Banco Bradesco (BBD) was the biggest drag on the sector, followed by Itaú Unibanco Holding (ITUB). Peru's financial holding company Credicorp (BAP) and Brazil's BB Seguridade Participações were among other major negative contributors to returns among financials. BBD's and ITUB's performances were responsible for nearly half of the sector's negative contribution to the fun.
Consumer staples followed financials—both in portfolio compositions and in negative contributions to returns. Brazilian brewing company Ambev (ABEV) and Brazilian food company BRF (BRFS) were the primary negative contributors to returns among staples.
The consumer discretionary sector formed only 6.6% of the fund's portfolio as of August 2015, but it still emerged as the third-largest negative contributor to the fund's returns. The sector's performance was dragged down primarily by the Mexico media company Grupo Televisa (TV).
Most of the top negative contributors were among the largest holdings in their respective sectors.
What saved the fund from further underperformance?
Even though materials formed the third-largest sectoral component of MDLTX's August portfolio, its negative contribution was less than that of consumer discretionary stocks. Its top negative contributor, Mexico's building materials company CEMEX (CX), contributed less negatively to returns than TV from the consumer discretionary sector.
However, in the six-month and YTD periods that ended August 31, the fund's performance has been poor, as most of its top stock picks have been among the biggest drags on the fund's overall performance.
In the next part of this series, we'll look at the T. Rowe Price Latin America Fund (PRLAX).