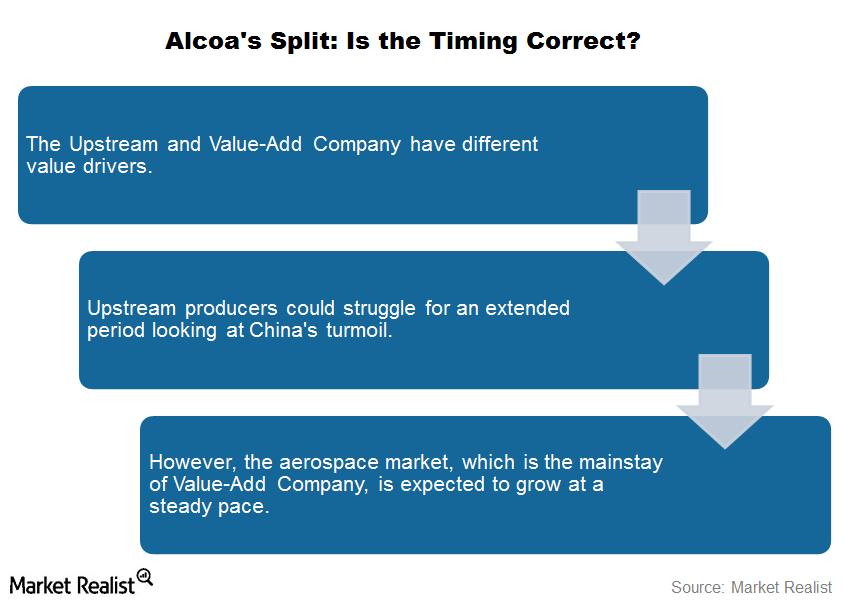 Is the Timing Correct for Alcoa's Split?
Timing
Previously in this series, we've seen the key concerns of Alcoa's (AA) split into two companies. The question around the split is not "why split?" but rather "why now?" The split was more or less expected by markets. However, what took markets by a surprise was the sudden announcement of the split. In this part of our series, we'll explore whether the timing is right for Alcoa's split.
In its conference call following the split announcement, Alcoa maintained that now the two companies are "sizeable" and have" enough strength" to succeed as separate companies. However, you might question the timing from looking at the bearish sentiments surrounding pure-play commodity companies. Let's discuss this in perspective.
Article continues below advertisement
Aluminum business
According to Alcoa, both the upstream and value-add businesses are "equally attractive." But the fact remains that the aluminum industry is going through one of its worst slumps. Aluminum prices are trading near their six-year lows. The downtrend is best reflected in the way stock prices of pure-play commodity (DBC) companies like Century Aluminum (CENX) have fallen this year.
There looks to be no early respite for the primary aluminum business. These's massive smelting capacity in China and the country has resorted to higher exports to keep its smelters running. Chinese aluminum exports have fallen year-over-year in both July and August. However, that's probably due to lower all-in aluminum prices. If aluminum prices rise, we might see an uptrend in Chinese aluminum exports—again putting pressure on aluminum prices. The uptrend in the commodity cycle looks much farther than many of us would have foreseen some six months ago.
Aerospace demand
Alcoa's value-add company is basically a play on strong aerospace demand. There's an estimated nine-year production backlog in commercial aircraft. The aircraft manufacturing sector is expected to grow at a healthy pace over the next decade.
Simply put, the upstream company and value-add company have different value drivers. While the upstream company would be negatively hit by lower aluminum prices, the value-add business should do well, based on strong aerospace and automotive demand.
Meanwhile, Alcoa's split still means a few unanswered questions. We'll discuss these in the next part of this series.