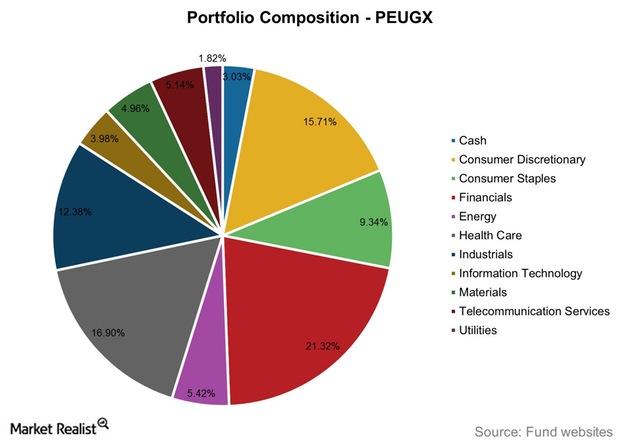 The Putnam Europe Equity Fund: Class A (PEUGX)
By David Ashworth

Sep. 24 2015, Updated 12:15 p.m. ET
Putnam Europe Equity Fund: Class A
The Putnam Europe Equity Fund: Class A (PEUGX) is offered by Putnam Investments. The fund notes that it seeks to grow capital by investing "in established large and midsize companies across Europe that benefit from the region's economy and from operations in global markets." The fund retains the flexibility of investing in either growth or value stocks.
The fund management makes use of fundamental research while applying its investment process. It supplements fundamental research by making use of macroeconomic analysis and quantitative tools.
Article continues below advertisement
Fast facts
The Putnam Europe Equity Fund has been in operation since September 1990, showing its long track record. As of August 2015, the fund was managing assets worth $370.3 million. Geographically, 29.6% of the fund's assets were invested into companies in the UK at the end of August 2015. Companies from France, Switzerland, Germany, and the Netherlands round off the top five invested geographies.
The share class's net expense ratio is 1.41%. The base management fee is 0.69% and the "A" share class can charge a maximum sales load of 5.75%. The interesting bit about the management fee for this fund is that it is subject to a performance adjustment. According to fund literature, if the fund underperforms its benchmark by 1%, the management fee is lowered to 0.66%.
On the other hand, if the fund outperforms the benchmark by 1%, the fee rises to 0.72%. The fund house has waived the minimum investment amount for this fund, which is $500. However, it reserves the right to reject investments below that level. There is no minimum additional investment.
In terms of the number of holdings, the fund had 75 stocks in its portfolio as of August 2015. Novartis AG (NVS) was the fund's top holding as of August 2015, forming 4.3% of total assets. TOTAL S.A. (TOT), Bayer AG (BAYZF), Unilever N.V. (UN), and AstraZeneca PLC (AZN) formed a combined 9.5% of the fund's portfolio and were among its top ten stock holdings.
Fund manager
Simon Davis, who is the co-head of international equities at Putnam Investments, is the manager of PEUGX. He has been managing the fund since May 2006. We'll look at the fund's performance for August 2015 in the next article.