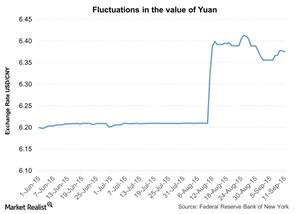 Surprise Yuan Devaluation and the Consequences
By Lynn Noah

Sep. 21 2015, Published 3:43 p.m. ET
Cheaper yuan
The People's Bank of China (or PBoC) surprisingly devalued the yuan, also known as the renminbi, by nearly 2% against the US dollar on August 11 for three consecutive days. This was done, of course, to boost exports and stabilize the market. But only time will tell whether exports will really see a boost.
It can be argued that the yuan devaluation will provide little help in boosting exports for thee reasons outlined below.
Article continues below advertisement
Losing competitiveness
Since October 2008, the yuan has gained almost 28% against the US dollar, and China has lost cost competitiveness. Industrial output has diminished, and labor cost has shot up. So depreciating the yuan by just 2%–3% won't provide much help, and hence the central bank may need to sharply devalue the yuan to prop up exports.
Further, China's statistics agency revised the GDP (gross domestic product) growth rate to 7.3% for 2014, compared to the previously reported 7.4%.
Looking at the current manufacturing slump in China, achieving a GDP growth rate of around 7% in 2015 seems difficult.
Currency war
Devaluation can trigger a currency war, and other Asian economies are not ready to support China at the cost of their own growth. They may also resort to devaluation to stay competitive in the global arena.
Article continues below advertisement
Change in focus
China is too big to grow at the same pace at which it was growing earlier. As the global demand is shrinking, China will have to shift its focus from an export-driven economy to a consumer-driven economy, which seems to be a Herculean task for the Chinese government.
Impact on mutual funds
There are four mutual funds that have broad exposure to multinational companies that are directly involved in export and import trade. They are the Clough China Fund – Class A (CHNAX), the Fidelity China Region Fund – Class C (FHKCX), the John Hancock Greater China Opportunities Fund – Class A (JCOAX), and the Matthews China Fund – Investor Class (MCHFX).
Technology companies such as Alibaba Group Holding (BABA), Youku Tudou (YOKU), and 58.Com (WUBA) have a large export market. An export slowdown affects their overall revenues.