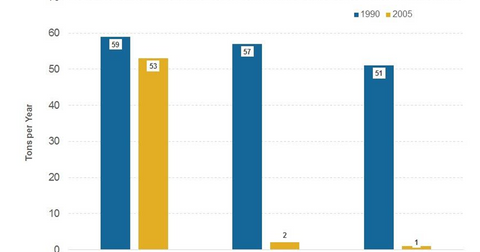 Why the Supreme Court Has Problems with the EPA's MATS
By Mike Sonnenberg

Sep. 30 2015, Updated 9:08 a.m. ET
MATS
While the final draft of the CPP (Clean Power Plan) was released recently, the MATS (Mercury and Air Toxics Standards) has been in place since 2012. It complements the CPP. While the CPP is focused on carbon emissions, MATS focuses on emissions that cause acid rain. According to the EIA (U.S. Energy Information Administration), around 13 gigawatts of coal-fired capacity is expected to be retired in 2015 alone in compliance with MATS.
Article continues below advertisement
On the other hand, 12.5 gigawatts of renewable energy capacity is expected to be added in 2015. Most of the coal plant retirements are happening in the Appalachian and Illinois Basin regions. This affects eastern coal producers including CONSOL Energy (CNX), Alliance Resource Partners (ARLP), Peabody Energy (BTU), and Arch Coal (ACI).
Why MATS?
According to the EPA (U.S. Environmental Protection Agency), 77% of acid gases, 60% of sulfur dioxide, 62% of arsenic, and 50% of mercury emissions come from power plants—mostly coal-fired ones. The EPA believes that there are technologies available to help the existing power (XLU) plant continue operations even after complying with MATS. Most of the power plants scheduled for retirement are small ones. They aren't in a position to implement these technologies to get rid of hazardous pollutants.
Controversies
The Supreme Court ordered the EPA to review MATS in a landmark ruling on June 30, 2015. It stated that in the current form, MATS fails to account for compliance costs. Regardless, the plant retirements are expected to occur as scheduled because utilities have already made provisions for retirements. The EPA is planning to submit a fresh version of MATS in 2016.