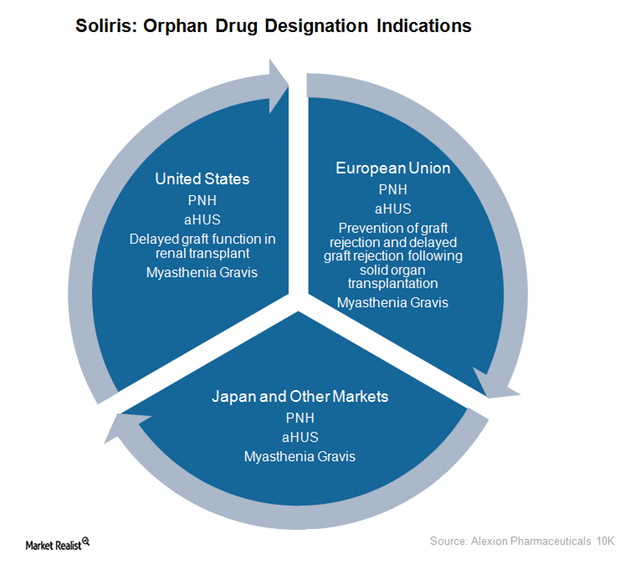 Soliris: Alexion Pharmaceuticals' Blockbuster Orphan Drug
By Margaret Patrick

Sep. 24 2015, Updated 12:14 p.m. ET
Soliris
Alexion's (ALXN) Soliris is the first and only marketed product targeted at two severe rare diseases: paroxysmal nocturnal hemoglobinuria (or PNH) and atypical haemolytic uremic syndrome (or aHUS).
The above diagram shows that Soliris has been granted orphan drug designation (or ODD) for PNH and aHUS as well as for other conditions resulting from abnormal functioning of the complement system.
Article continues below advertisement
ODD benefits
According to the Food and Drug Administration (or FDA), "An orphan drug is defined in the 1984 amendments of the U.S. Orphan Drug Act (or ODA) as a drug intended to treat a condition affecting fewer than 200,000 persons in the United States, or which will not be profitable within 7 years following approval by the FDA."
ODD allows the drug to enjoy several benefits both in pre-marketing as well as post-marketing phases. In the US, orphan drugs enjoy benefits such as tax credits on clinical investigation expenses, funding, and other assistance in developing orphan drugs as well as seven-year market exclusivity post approval of the drug. In the European Union, the market exclusivity extends to ten years.
Patents and market exclusivity
Biotechnology companies such as Alexion Pharmaceuticals, Regeneron (REGN), Celgene (CELG), and Amgen (AMGN) file patents with the US Patents and Trademark Office in the US and the European Patent Organization in Europe. However, these patents are filed at any point during the drug development process and usually several years before the drug is approved by the regulatory bodies. To find out more about the drug development process, please refer to Drug Approval Process in the Biotechnology Industry.
When an orphan drug is granted market exclusivity by the FDA and European Medicines Agency (or EMA), these regulatory bodies do not approve any other application of the drug's generic version or any other drug targeting same disease or condition for a period of seven years. This grants a monopoly to the innovator company, allowing it to claim premium pricing for the drug.
Market exclusivity is effective after approval of the new drug application (or NDA) of the drug. Since it is independent of the patent, it can exist either concurrently or even past the patent's expiry. Market exclusivity is thus an additional protection mechanism to ensure that the orphan drug innovator company earns a decent return on its capital investment.
Investors can get exposure to Alexion Pharmaceuticals' orphan drug Soliris and reduce the company-specific risks by investing in the iShares Nasdaq Biotechnology ETF (IBB). Alexion accounts for 5.07% of IBB's total holdings.