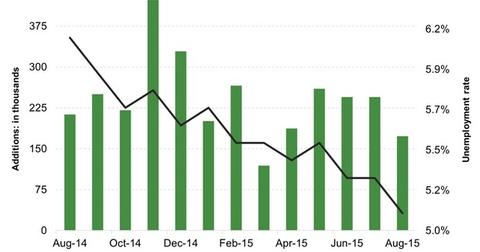 Solid Job Additions and Slack in the US Labor Market
By David Ashworth

Sep. 20 2015, Published 11:10 a.m. ET
Non-farm payrolls and the unemployment rate
Job additions in the past 20 months have been strong. This indicates the strength in the US labor market. According to a release by the U.S. Bureau of Labor Statistics, the US labor market added 173,000 jobs in August. This was lower than expected, but relatively strong. This was only the fifth month in the last 20 months that saw non-farm payroll additions lower than the 200,000 level. It's interesting to note that three of those five months were from 2015.
The unemployment rate continued to fall as well. The household survey for August 2015 showed that the unemployment rate fell to 5.10%. Just a year ago, the rate was 6.10%.
Article continues below advertisement
This report, released on September 4, informed that financials and healthcare sectors had seen strong job gains. This positively impacted stocks like E*TRADE Financial (ETFC) and Charles Schwab (SCHW). It was positive for healthcare firm Regeneron Pharmaceuticals (REGN). However, the report didn't impact all of stocks in these sectors equally. This led ETFs like the Financial Select Sector SPDR ETF (XLF) and the Health Care Select Sector SPDR ETF (XLV) to fall for the day.
September 2015 meeting statement
Policymakers were positive about the state of the labor market in the September 2015 meeting statement. The statement said that "The labor market continued to improve, with solid job gains and declining unemployment."
However, more improvement was expected as the statement indicated. It said that continued monetary policy accommodation will cause labor market indicators to move towards levels that are consistent with the Fed's dual mandate of fostering maximum employment and maintaining price stability.
Investors should note that slack remains in the labor market. During conference after the meeting, Janet Yellen stated that the fall in the unemployment rate took place alongside a fall in the labor force participation rate—a measure of slack in the US labor market. She added that "the participation rate is still below estimates of its underlying trend, involuntary part-time employment remains elevated, and wage growth remains subdued."
As a result, although the labor market has improved substantially, it isn't there yet.
In the next part of this series, we'll move on to inflation.