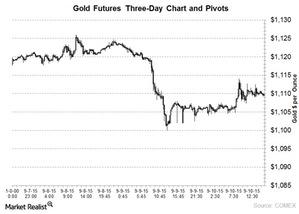 Shorting Excessive Gold Contracts May Lead to Price Rise
By Meera Shawn

Updated
Gold support level
As we saw Asian markets collapse and inflation pinned to the lowest level, the demand for gold surged in the month of August. The scaling of gold prices was likely a call for the safe-haven asset.
Gold producers and hedge funds have been selling forward for years. Such shorting may lead to artificial inflating of the supply. Due to this artificial rise in supply, the price of gold investments likely took a dip. Gold futures on COMEX, a commodity division of the New York Mercantile Exchange, for December delivery fell close to 2% since the beginning of September, as of Thursday, September 10.
Gold seems to have a support level close to $1,100. The above three-day pivot chart helps us better understand the support level for the yellow bullion.
Article continues below advertisement
Other bullions
The silver futures contract for the current month of September has plunged about 1.44% on a five-day trailing basis as of September 10. Platinum has been the worst performer, losing ~4.35% on a five-day trailing basis as of Thursday, September 10. However, palladium gained 1.71%.
The worst performing miners leveraged ETF has been the Direxion Daily Gold Miners 1 (NUGT). It lost about 10.6% on a five-day trailing basis and has a whopping ~36% loss on a 30-day trailing basis.
Gold demand and supply
Recently, we've seen an air of commodity oversupply taking over the markets, which has led to a steep fall in prices. Most investors similarly assume gold to be in abundance. However, this may not be the case for gold. Currently, more gold is likely consumed than mined, and the consumption pertains to the forward sellers who borrow gold.
The central banks probably meet the current demand shortfall for hedgers. If gold producers and hedge funds stop selling forward someday, then the supply of gold may suffer. Forward sellers will have to replace the gold they previously sold through newer forwards, leading to an increase in the demand for newly mined gold. This gold will come out of production, thereby further reducing the supply of gold available to meet demand.
As for the hedge funds that are selling forward, they'll have to buy their gold, increasing the demand for miners. The scenario seems to be cyclical. However, there are some other economic factors that affect gold demand and supply. Changes in the cycle, as explained above, may positively affect miners, as gold prices can likely climb.
Mining company shares like Hecla Mining (HL), Eldorado Gold (EGO), Gold Fields (GFI), and Royal Gold (RGLD) are trading below their 100-day moving average prices. They may potentially raise their prices due to a rise in gold demand. These four stocks together make up ~13.7% of the VanEck Vectors Gold Miners ETF (GDX).