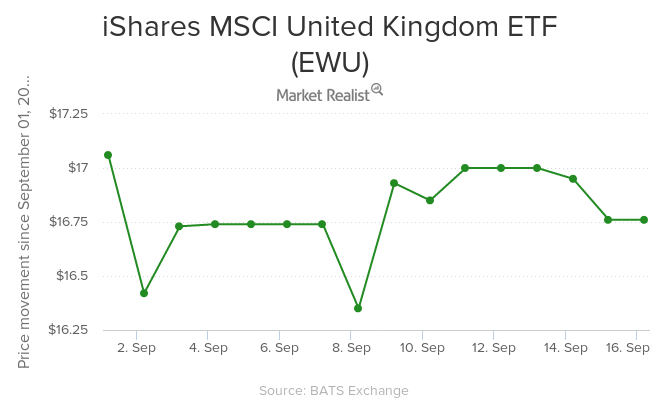 Sharp Fall in Crude Oil Pulled UK Inflation Down to 0
UK's inflation rate fell and EWU rose by 0.78%
The iShares MSCI United Kingdom ETF (EWU) rose by 0.78% on Tuesday, September 15. The stock market rallied on September 15 ahead of the Federal Reserves' meeting on September 16. The Fed's decision on the rate hike this year impacts the United Kingdom's stocks market. The move is expected to strengthen the US dollar against many currencies.
[marketrealist-chart id=658826]
The above graph shows the price movements for EWU. It's very volatile. EWU's rise on September 15 doesn't seem to be based on valid grounds. As a result, the sustainability of these stocks' rally isn't predictable.
Article continues below advertisement
The ONS (Office for National Statistics) stated on Tuesday, September 15, that the annual inflation rate fell back to zero in August. The lower fuel prices are cited as one of the reasons behind it. This zero inflation will refrain the Bank of England from raising the interest rates in the country. On this zero inflation note, the British pound rose against the US dollar on September 15.
Key stock players of the day
Weir Group (WEIR), Tullow Oil (TLW), and Petrofac (PFC) were the top gainers on September 15. The stocks rose 4.85%, 4.25%, and 3.60%, respectively. Weir Group is from the industrial machinery industry. It appointed Ricardo Garib as the new divisional managing director of the company's mineral division. The company's stakeholders think that this is a positive move. Weir Group has earned five "buy," five "sell," and 14 "hold" recommendations.
A broker at Westhouse Securities stated that Tullow Oil is an excellent investment opportunity. During the current slump in the oil prices, Tullow Oil is an undervalued and high potential stock. The stock has received 17 "buy," 12 "hold," and five "sell" recommendations. The other peer companies in the oil and gas industry that rose on September 15 were ENSCO (ESV), Noble (NE), Transocean (RIG), and Seadrill Partners (SDLP). The stocks returned 4.66%, 3.69%, 2.65%, and 0.30%, respectively, on September 15.
Next, we'll look at the leaders and laggards of the day in the United Kingdom's stock market.