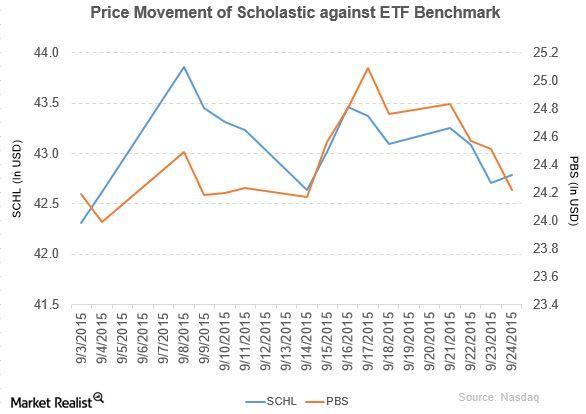 Why Scholastic's Net Income Fell in 1Q16
Scholastic's price movement
Scholastic (SCHL) has a market cap of $1.43 billion. Its YTD (year-to-date) price movement is rising with some stability in the last few months. After the earnings report in 1Q16, Scholastic rose by 0.19% to close at $42.79 per share. The price movement on a weekly, monthly, and YTD basis is -1.34%, 5.80%, and 18.84%, respectively. It's trading at -0.70% on a trailing five-day basis.
Technically, it broke the support of the 20-day and 50-day moving average in the last three months. Currently, it's trading at -2.10% below the 20-day moving average, -1.90% below the 50-day moving average, and 4.15% above the 200-day moving average.
The PowerShares Dynamic Media ETF (PBS) invests 2.72% of its holdings in Scholastic. PBS tracks an index of the US media industry stocks. The index uses multi-factor selection and tiered equal weighting. PBS's YTD price movement is -3.63%.
Scholastic's competitors and their market caps are:
Article continues below advertisement
Scholastic's performance in 1Q16
The company reported net revenue of $191.2 million in 1Q16—a rise of 0.36% compared to net revenue of $190.5 million in 1Q15. The revenue from Children's Book Publishing & Distribution and Education rose by 15.40% and 6.80%. The company's net income is -$49.4 million. The cash and cash equivalents have been reported at $250.3 million.
In 1Q16, the company announced the acquisition of Troubadour—a company in the United Kingdom. It's doing business as The Travelling Book Company.
About Scholastic
Scholastic is the largest publisher and distributor of children's books. It provides print and digital instructional materials for pre-K to grade 12. It also produces educational and entertaining media for children. The company creates quality books and ebooks, print and technology-based learning materials and programs, classroom magazines, and other products that offer schools customized and comprehensive solutions to support children's learning both at school and at home.