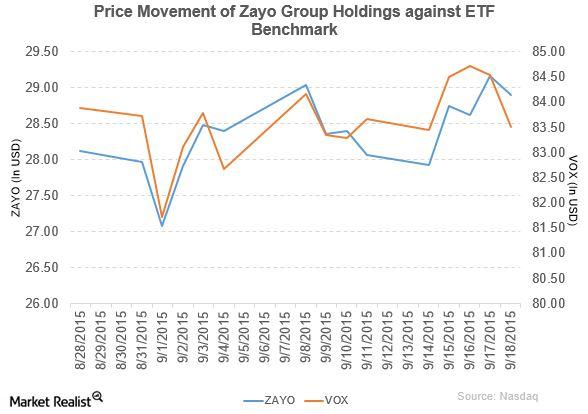 Sales Boost Zayo Group's Revenue
By Gabriel Kane

Sep. 21 2015, Updated 10:13 a.m. ET
Zayo Group's price movement
Zayo Group Holdings (ZAYO) has a market cap of $7.02 billion. Zayo Group's YTD (year-to-date) performance is stable. After the earnings report for 4Q15, Zayo Group fell 0.93% to close at $28.90 per share. The price movement on a weekly, monthly, and YTD basis is 2.99%, 0.24%, and -5.46%, respectively. It's trading at 3.47% on a trailing five-day basis.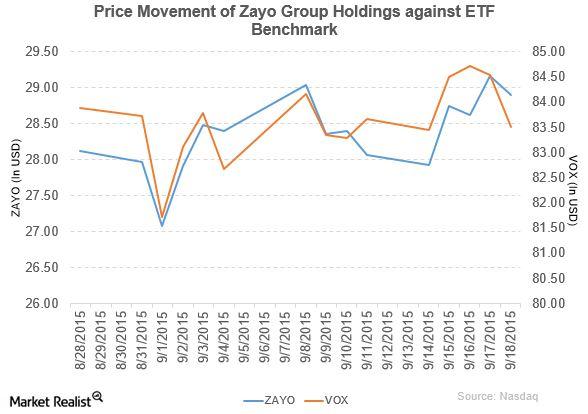 At times, it's trading above all of the supports in 2015. Currently, it's trading at 3.10% above the 20-day moving average, 6.34% above the 50-day moving average, and 4.26% above the 200-day moving average.
The Vanguard Telecommunications Services ETF (VOX) invests 1.15% of its holdings in Zayo Group. VOX tracks a highly concentrated, market-cap-weighted index of US telecommunications companies. VOX's YTD price movement is -0.21%.
Zayo Group's competitors and their market caps are:
Article continues below advertisement
Zayo Group's performance in 4Q15 and fiscal 2015
Zayo Group has reported net revenue of $361.9 million in 4Q15—a rise of 6.22% on a quarterly basis. The net income reached a positive number of $5.1 million in 4Q15—compared to the net income of -$53.7 million in 3Q15.
In 4Q15, the company announced an extension of the long haul dark fiber route from Phoenix to Dallas and Atlanta to Washington DC.
On April 16, 2015, zColo, the co-location business of international Bandwidth Infrastructure provider Zayo Group Holdings, announced that it has opened a new data center in Denver. On May 14, 2015, Zayo Group selected Hibernia Networks, to provide a 100G augmentation through Hibernia Express to Zayo's transatlantic network.
In fiscal 2015, the company grew by 19.90%. The net revenue was recorded as $1,347.1 million in fiscal 2015. As a percentage of sales, the operating cost fell by 8.40% in fiscal 2015 on a yearly basis. The net income rose by 13.30%.
On the balance sheet, the cash and cash equivalents rose by 53.80% and current ratio fell by 3.30% in fiscal 2015 compared to fiscal 2014. The debt-to-equity ratio fell to 4.03.
About Zayo Group
Zayo Group provides bandwidth infrastructure services including cloud IaaS (infrastructure-as-a-service), dark fiber, live video, wavelengths, SONET, Ethernet, IP services, and carrier-neutral colocation and interconnection. Its network extends 84,000 route miles with connectivity on dense metro and intercity fiber assets. Zayo's network reaches over 17,400 buildings, including 827 data centers, 488 carriers' PoP (point of presence), and over 10,500 enterprise buildings.