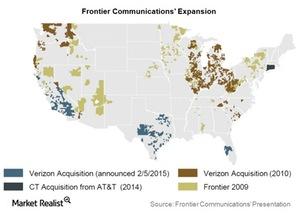 Sale of Verizon's Wireline Assets in 3 States Gets FCC Nod
By Ray Sheffer

Sep. 22 2015, Updated 10:45 a.m. ET
Sale of Verizon's Wireline Assets in 3 States
In this series, we will look at Verizon's (VZ) wireline segment. According to the telecom company's press release on September 2, 2015, "The Federal Communications Commission today approved the proposed $10.54 billion sale of Verizon's local wireline network assets and operations in California, Florida and Texas, to Frontier Communications (FTR)."
The press release also noted, "The proposed sale of Verizon's wireline properties in California, Florida, and Texas, to Frontier Communications was announced on February 5, 2015. The companies anticipate completion of the transaction by the end of the first quarter of 2016."
Article continues below advertisement
Frontier Communications boosted its wireline reach with some asset acquisitions. In 2010, Frontier Communications bought the largely rural, wireline assets of Verizon in 14 states. Another recent transaction involved the Connecticut wireline operations of AT&T (T), which was completed in October 2014.
What will Frontier Communication get from this transaction?
As we can see in the above chart, Verizon's wireline assets in these three states should significantly expand Frontier Communication's geographic reach in the US. According to Frontier Communications, the deal brings to the telecom company ~7.1 million wireline connections and customers as of February 5, 2015, of Verizon in these three states. Also, these connections included ~1.2 million FiOS video customers as of the same date.
FiOS is Verizon's fiber-based internet, IPTV (Internet Protocol Television), and voice service. This is similar to AT&T's U-verse.
You may take a diversified exposure on Verizon by investing in the iShares MSCI USA Minimum Volatility ETF (USMV). USMV held ~1.4% in the telecom company as of August 31, 2015. Alternatively, you may consider the SPDR Dow Jones Industrial Average ETF (DIA). DIA held ~1.9% in Verizon at the end of August.