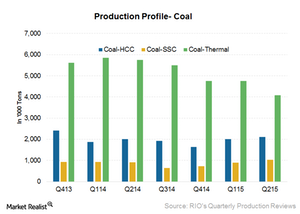 Rio Tinto's Coal Production Went On as Expected in 1H15
Coal volumes
Along with iron ore and manganese, metallurgical coal is a key input in steel production. A sustained rise or fall in coal shipments is a significant indicator that affects the stock value of coal producers (KOL) such as BHP Billiton (BHP)(BBL), Rio Tinto (RIO), Peabody Energy (BTU), Alliance Resource Partners (ARLP), Arch Coal (ACI), and Cloud Peak Energy (CLD). RIO forms 1.8% of the SPDR S&P Natural Resources ETF (GNR).
Article continues below advertisement
Coal production accelerates
RIO's hard coking coal production was up 13% YoY to 4 million tons in 1H15 due to improved production rates at Kestrel, which continues to ramp up to its nameplate capacity of ~6 million tons.
Semi-soft coking coal production was also 5% higher YoY owing to production sequencing at RIO's Hunter Valley operations.
Thermal coal production was almost in line with 1H14 at 8.8 million tons. Strong operational performance was offset due to the impact of wet weather.
Coal still relevant?
RIO expects its share of production to come in at 18 million–19 million tons for thermal coal, 3 million–3.4 million tons of semi-soft coking coal, and 7.1 million–8.1 million tons of hard coking coal.
Management also commented that coal is going to be an important part of the overall energy equation for 50 years, and there's no substitute for coal in the mix in terms of power production at the moment. Though there are many alternatives coming, to be viable, they need to reduce their capital costs and operating costs significantly.
For more on coal and coal producers, visit Market Realist's Coal page.