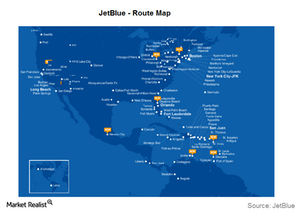 Comp: Revenue Model Analysis of Regional Carriers
By Ally Schmidt

Updated
JetBlue
Unlike other regional carriers (no-frills operators) and legacy carriers (full cost operators), JetBlue Airways (JBLU) operates a hybrid business model combining services from both the revenue models. The company has adopted an aggressive cost-cutting measure to include services that provide customer value without compromising on quality and comfort. The airline provides extremely low fares compared to peers along with high quality standards. Plus the carrier maintains a strong network of point-to-point service focused at high value geographies such as New York, Boston, Los Angeles, and the Caribbean.
Article continues below advertisement
The company also has limited exposure to global markets, which protects it from foreign currency risks. It also provides various in-flight facilities that are generally not provided by other low cost carriers such as free TV/radio, free and unlimited brand-name snacks and beverages, free carry-on bag, free Wi-Fi, and private suites in some newer flights. This allows JBLU to attract business travelers who are ready to pay a premium for these services.
Spirit Airlines
Spirit Airlines (SAVE), on the other hand, is a no-frills carrier, charging customers for additional services. It has also followed other airlines in adding more seats on its planes. For example, Spirit packs up almost 178 seats on its A320s as compared to JetBlue's 150. Fewer seats allow JBLU to sell "extra leg-room" seats at a premium.
Southwest Airlines
Southwest Airlines (LUV) is similar to SAVE. True to its low cost carrier business model, it does not offer any frills like in-flight meals and drinks, free TV/radio, or Wi-Fi. Also, LUV uses only Boeing 737s (BA), which helps it to standardize its fleet. Seats on the 737s are narrower than those on A320s. In order to provide more comfort to its customers, LUV has recently announced plans to introduce wider seats on its new Boeing 737-800 to be introduced in 2016 and the 737 Max to be introduced in 2017. However, similar to SAVE, it also packs ~178 seats, giving its customers less leg room than JBLU.
Investors can get exposure to airlines by investing in the iShares Transportation Average ETF (IYT), which invests ~16.85% of its holdings in airline stock.
In our next article, we will discuss how these airlines differ in terms of geographical exposure.