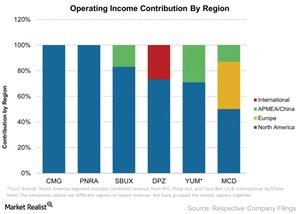 Which Restaurant Stocks Are More Sensitive to China?
By Adam Jones

Sep. 5 2015, Updated 2:06 a.m. ET
Some restaurant stocks are sensitive to China
Companies that have exposure to China are the most sensitive to the recent slowdown in that region. The fall in the Chinese stock market could dampen consumers' sentiment in China. Also, a fall in key indicators like the PMI (purchasing managers' index) can fuel layoffs and a negative consumer environment. This can affect people's decision to visit restaurants.
The above chart shows the operating income contribution by region for six large restaurant players in the US. Most of the companies, especially Chipotle Mexican Grill (CMG), Panera Bread (PNRA), and Domino's (DPZ) earn a major portion of their operating income from the US. Yum! Brands (YUM), Starbucks (SBUX), and McDonald's (MCD) all have exposure to the Asia-Pacific and China region. Chipotle, Starbucks, and McDonald's account for ~8% of the Consumer Discretionary Select Sector ETF's (XLY) portfolio.
Article continues below advertisement
China exposure
To know how sensitive these companies are to China, we can look at how much growth each region has contributed to the respective company's operating income.
For Starbucks, the Asia-Pacific and China region contributed 14% towards its 2Q15 operating income growth—compared 60% coming from the Americas region. For McDonald's (MCD) the operating income fell 15% in the recent quarter. However, ~49% of this fall came from the Europe region while the APMEA (Asia-Pacific, Middle East, and Africa) region only contributed 26% to this fall. For Yum! Brands, most of its operating income contribution comes from the US. Out of all the companies mentioned above, Yum! Brands is the most sensitive to China. It contributed about 52% towards the company's revenue. The recent challenging economic environment in China could be negative for these companies.
This would affect the companies' growth expectations. In turn, it would impact their earnings and valuations. Next, we'll discuss how the valuation multiples for restaurants have changed.