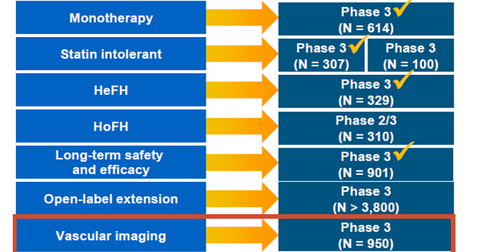 Repatha's Clinical Profile Is Superior to Existing Statin Therapies
By Margaret Patrick

Sep. 4 2015, Updated 2:07 p.m. ET
Repatha's clinical trials
The FDA's (U.S. Food and Drug Administration's) approval of Amgen's (AMGN) Repatha has made the drug the second PCSK9 inhibitor to be approved in the United States. The drug was approved in the Eurozone on July 21, 2015, making it the first PCSK9 approved in the European market.
The above chart shows the clinical trials used to test Repatha. Results from the vascular imaging study are expected in 2016.
Article continues below advertisement
Repatha's clinical profile
Repatha has been proved superior in efficacy and safety to existing statin drugs such as Merck's Mevacor, Pfizer's (PFE) Lipitor, and Novartis's (NVS) Crestor. The drug was tested in one 52-week clinical trial and eight 12-week trials with participants suffering from hyperlipidemia. This includes trials that enrolled participants with familial hypercholesterolemia (or HeFH) and homozygous familial hypercholesterolemia (or HoFH).
In one 12-week study, patients with HeFH who were already on statin drugs were randomly given Repatha or a placebo. ClinicalTrials.gov defines a placebo as "a substance that does not contain active ingredients and is made to be physically indistinguishable (that is, it looks and tastes identical) from the actual drug being studied."
In placebo-controlled studies, patients receiving the new treatment are compared with those who receive a placebo. It was concluded that patients who had been given Repatha displayed about 60% reduction in LDL cholesterol levels compared to those given a placebo. In another study, Repatha proved more effective than Merck's (MRK) Zetia. No serious safety incidents have been reported. This makes the drug a potential blockbuster therapy for Amgen.
You can benefit from the possible upside potential of Repatha by investing in the iShares NASDAQ Biotechnology ETF (IBB) which has 8.53% of its total holdings in Amgen.